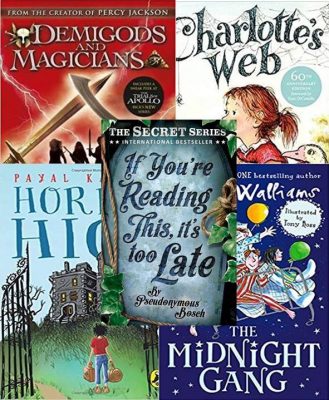 [This has been posted by Sid's mom, Priyadarshani who manages all of his online activities.]
Hey Friends,
Today I am going to share with you a list of top 5 books I read in 2018. Let's get started.
As I look back I can think of many books that I read this year, but the following are the top 5 books that really stood out.
1. Horrid High by Payal Kapadia (Indian Author :-))
I'll tell you the story here in short.
Once there was a boy named Ferg Gotten (notice the play of words here?) whose parents hated children (I don't know why they had one). Ferg is sent to a school (researched by his evil mother) called Horrid High, and as the name suggests the school is horrid. Chef Greta (and here) makes recipes using crows and Mr. Mynus (here again) makes them count grass. But after all this horrible horridness, principal Perverse (one more) still has some horrible horridness left. Will Ferg and his friends be able to stop him?
2. Charlotte's Web by E. B. White
This book was a part of my school reader list this year and I thank the school for this amazing book.
Charlotte's Web is about a pig named Wilbur, who was saved by a girl named Fern when her father was thinking of 'doing away' with it. Wilbur is then sent to a farm where he learns that he will get slaughtered in the winter. But not everyone gives up hope. Charlotte, a spider, promises that she will save Wilbur. Does she succeed in her plans or does Wilbur die? Read the book to find out.
3. Midnight Gang by David Walliams
One day Tom gets hit on the head by a cricket bat and he lands up in a hospital called Lord Funt hospital. There he finds a strange-faced porter and an evil matron but the children's midnight gang is unstoppable and Tom is on an adventure of his lifetime. Soon he finds out secrets and makes new friends. I'll tell you no more, read the story and it'll touch your heart's core!

Available on Amazon.
4. If You Are Reading This, It's Too Late by Pseudonymous Bosch
Before I start I want to say that I like the idea of keeping your name secret but Raphel didn't do quite well at remaining anonymous. Also before you start reading this book you should read part one – The Name of This Book is a Secret.
Cass and Max Ernest are members of the Terces Society and in this book they have to find the sound prism to find a magical creature. Yo-Yogi, their new friend also helps a lot. But the evil Midnight Sun gang is not making it easy for them. Read the book to find out why they need to find that creature.
5. Demigods & Magicians by Rick Riordan
You would recognise the word 'Demigod' from my Percy Jackson review but magicians is new, right? In this book Rio Riordan combines two mythologies – Greek and Egyptian.
After a lot of confusion on their first meeting, killing a magical gator, Percy Jackson & Carter Kane are left stumped. However, when the girls Annabeth Chase and Sadie Kane meet, Greek and Egyptian powers are bound to mingle. When the evil sorcerer, Setne, combined both magic and mythology, our heroes will have to fight fire with fire.
Which are the top 5 books you read recently?
[Note from Team Kids Book Café: For your convenience, affiliate links (MARKED IN PINK) to some of the books have been added to enable you to buy the books from AMAZON, should you wish to! A very small amount of money comes to kidsbookcafe.com when you purchase a book via the amazon affiliate link provided (at no extra cost to you!). Do let us know if you'd like to buy some other children's books that are not listed here yet, by writing to asha@kidsbookcafe.com.]