Last year, I wrote a tribute to my Dad who used to read to me when I was little. We also featured some other #kbcMember dads who have been an active part of their children's reading journey. Since we are firm believers in equal parenting, I reckon this should become a yearly ritual :).
Here are some stories of our #kbcMembers, especially #kbcDads, who are actively involved in their children's reading rituals….
Devarsh (3 yo Joy, as we all know him!) & Soumitro Chatterjee, Pune.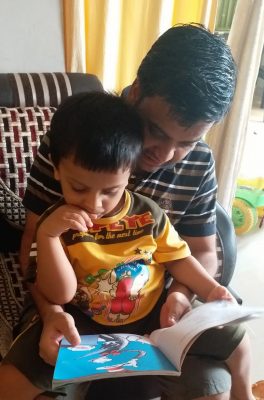 Meet Namita's husband, Somitro who is a Senior Technical Lead. He reserves weekend afternoons for quality reading time with Joy.
Books they love reading together:
'Vivekananda for children',
'Krishna tales',
'The very hungry caterpillar',
'The cat in the hat'.
Namita has an interesting memory to share:
It was a Saturday afternoon in the month of October 2019 that I had to receive an important phone call from my interviewer. I had applied for a job. Joy and I were playing with his toys. As soon as I got up to receive the call, he started crying, not ready to let me go into another room and talk over the phone. It was that time, when my husband picked up a book from the shelf and convinced him to read a story. He settled down soon and they both spent a good amount of time together reading, laughing and talking over the story they just read. Since then, they mostly spend their weekend afternoons reading a book.
Kabeer & Namit Agarwal, New Delhi
Namit , a Public Policy Professional, is a hands-on parent and extremely involved in his son Kabeer's reading life. He tells us more…
As a child, my exposure to books was limited to school textbooks. When Kabeer was born, Esha and I were very clear that we will expose Kabeer to as many books as possible. Kabeer is 3 years old now and last year he has read over 50 different books.
It has now become a ritual for Kabeer to read 3 books every night before he sleeps. Kabeer picks 3 books from his bookshelf. Books that Kabeer and I enjoy reading together are – Charlie Cook's Favorite Book, Rhyming Rabbit, Zayn and Zoey, Cave Baby and Danny and the Dinosaur. He is yet to start understanding words, but he has memorized some of the books. He wants me to pause before his favorite lines for him to read out loud in excitement!
I feel reading books with Kabeer is the best time we spend together. My best reading moment with Kabeer was when I read my own childhood book from 1993 to him. It also helps as a stressbuster for me after a hard day's work. Not to mention how much I have learnt myself, especially about dinosaurs!
All these parents have been actively contributing to our community by sharing reviews & recommendations to help other parents. We all are committed to raising readers together :).
Aarav and Krishna Verma, Bengaluru
Mahima is not only very committed to making 3.5 year old Aarav an early reader, she is also one of the most helpful and encouraging parents in our community.
Her husband, Krishna Verma – Head Of Marketing (BTL) Reliance Retail Ltd. (Trends) shares a special reading bonding with their son, Aarav.
Their current favourite books are (all bought from kidsbookcafe.com):
The way back home by Oliver Jeffers
I am a Pilot
Time to Tidy Up.
Mahima shares a small story about their reading journey.
Initially Aarav never used to let Papa read, he was used to me reading with all the animation and voice modulation. Slowly Papa learnt it too and one day when his Mumma was unwell, he had to let Papa read and to his surprise there was everything he wanted. The animation, the voice modulation, the drama, everything coming alive. From that day o,n they began their reading journey together! Now whenever I am busy, they both spend their time together with books.
Kaavya & Vishal Sirohi, Gurugram
Vandana, another super active and helpful #kbcMember tells us how reading is a ritual at their home where dad & daughter need books to feed their soul.
Vishal, a shipping professional, loves books a lot – his reading habit is infectious. We both share our love for reading in common. So as parents, we decided to make books our child's best friends.
More than a dad and daughter they are best buddies. He respects her choice of picking her own books from our mini library and then they read together. He teaches her so much through books and role play that their whole session is full of giggles and laughter.
Vishal loves suspense and thrillers so he loves to read stories on Ninjas, Dragons, Dinosaurs and Pirates to Kaavya! He has taught her a crazy pirate song, with weird words which I don't like much, but the both sing it loudly to tease me every now and then.
Kaavya has a bedtime story ritual. Books are her companions whenever we travel, even on a day trip! Some weekends Kaavya accompanies Daddy to his office where she reads her picture books or draws. Books are all we need!
Dad-Daughter all time favourites: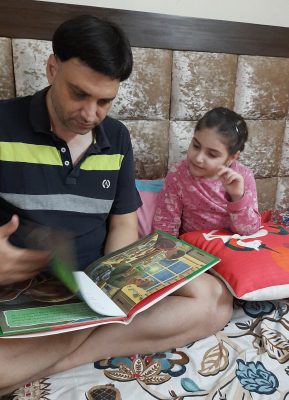 Julia Donaldson books
Corduroy books
How to catch a star by Oliver Jeffers
Giraffes Can't Dance by Giles Andreae
Hugless Douglas by David Melling
Where the Wild Things Are by Maurice Sendak
Little Wolf's First Hawling by Laura McGee
The Gingerbread Pirates by Kristin Kladstrup
Jahnvi & Varunjesh Bhambri, NCR
Neha Arora and her husband Varun (VP operations, EXL Service) have been raising a very early and enthusiastic reader.
In Neha's words:
The first memory for me of Varun reading to her was when he would recite/chant Sanskrit Shlokas to Jahnvi when she was still in my tummy. This ritual of reading the Hanuman Chalisa together continues everyday.
According to Varun she's made him read Room on the Broom and The Gruffalo's Child the most till date. Her current favourites include It's My First Nature by DK publication and Peppa Pig series amongst many others. They bond over books on weekends mostly. Which means I have more time to finish my chores too. He personally loves to tell her mythological stories about Hanuman.

Shaarav & Kartik Kujur, Ranchi.
Kartik is another very very hands on parent. He's the Manager, CO & BPP, Steel Authority of India, Bokaro Steel Plant and is at home, in Ranchi, over the weekends. He shares their reading journey…
We started reading together when Shaarav was about 9 months old. Since my wife was not working at the time she was the one who used to read to him more. But she insisted that I read to him too even if it was on weekends. Later when we started to enjoy our reading sessions as we added more books in our stash it has become more of a loved and cherished routine that we both enjoy.
Bonding over books with me and Sweta has been a different experience for Shaarav because of the different styles of reading and approaches we have. So what 3.5 year old Shaarav does these days is he brings different genres of books to each of us. With Sweta he prefers fiction books while with me he goes for non-fiction and fact based books like those on dinosaurs or volcanoes. For that kind of reading we have some encyclopedias and books from National Geographic too.
He comes to me with requests like, "Papa Earth ka story sunaiye." And our conversations are like, "Papa agar Saturn ka ring hata denge to wo Neptune ho jayega? Or "Nahin ye wala dinosaur Diplodocus hai, Brachiosaurus ka neck aur lamba hota hai."
Our favourites:
Julia Donaldson's books
Gajapati Kulapati series
Jack and the Flumflum Tree
Junior Kumbhakarna
How to catch a star
Night Monkey Day Monkey
The Koala who Could
The lion inside
The squirrels who squabbled
So here's to all of our #kbcDads and dads across the universe, who are play an active role in their childoos' reading journeys. Here's to creating many more reading memories forever! Here's to raising readers together :).
[Note from Team Kids Book Café: For your convenience, affiliate links (MARKED IN PINK) to some of the books have been added to enable you to buy the books from AMAZON, should you wish to! A very small amount of money comes to kidsbookcafe.com when you purchase a book via the amazon affiliate link provided (at no extra cost to you!). Do let us know if you need information about other children's books by writing to asha@kidsbookcafe.com.]