When #kbcMember Amardeep lost her grandfather, and she was to travel to her parents's place with her son, she posted a query: "When we go there he will ask questions about why he isn't there. Are there any books that can explain death, albeit in a light way, to a 3 yr old?"
That's when we realised we needed to curate a list of books that would help children understand the concept of loss and death. And that it's okay to feel sad.
Over the next few months owing to the pandemic we started getting many more requests for such books. We have put together a list of books recommended by our members.
For 3+ years
The Sea Saw by Tom Percival for (2-5 years). Asha was gifted this book and highly recommends it.
It is such a moving story about a little girl's teddy getting lost. It's not about death, but dealing with loss of anything close to you. The beauty though, is that the story shows you, nothing is ever truly lost…
Big Cat, Little Cat (3-6 years) – A 2018 Caldecott Honor Book, it's about how the older cat goes away and doesn't come back.
Books by Cori Doerrfeld (3-5 years)
Goodbye Mog (3-5 years)
Badger's Parting Gifts (3-5 years)
Always and Forever by Alan Durant and Debi Gliori (3-5 years) recommended by Priyanka.
"The book talks about a family consisting of different animals (otter, fox, mole and hare), that miss the Fox when the fox passes away. Its a heart warming story and also gives a beautiful example of how we could always cherish the life that someone gifts with their presence along with mourning their loss."
The Great Storyteller (3.5-7 years) from Scholastic
Anusha recommended this on Amardeep's post and Asha eventually got it. Quoting Anusha:
The Great Storyteller is a beautiful story about animals in a jungle. The wise elephant is the great storyteller until one day he isnt. The book shows how sadness befalls the jungle, and how the friends work through it.
If you wish to buy the book from Amazon, please click here.
Grandad's Island by Benji Davies for 3-6/7 years is a gentle book to introduce the concept of a grandparent's death to a child.
No Longer Alone for 3-6 years recommended by Author Richa Jha.
Daddy's Rainbow for 3-6 years (32 pages picture book) – about loss of parent.
Missing Mommy: A Book About Bereavement (3-8 years)
A Friend For Dragon by Dav Pilkey for 3-6 years from Scholastic (it's an Acorn book so children between 4-6 can even read it by themselves). Asha has this book and highly recommends it. In her words:
It's a very poignant as well as uplifting book which can help a small child understand the concept of separation and death in a non complicated way as the story revolves around an apple. The lovely illustrations and the dragon's feelings make it a heartwarming read that makes it easy for a pre-schooler to understand and most importantly, accept loss.
If you wish to buy the book from Amazon, click here.
Anuradha Khaitan Gupta recommends Dance like a Leaf (apt for 2.5/3 years+ and The Garden of Hope for 3-6 years which is about the loss of a parent.
The Scar Neerja recommends this in one of her posts. Quoting her mini review from this post: "This is a book about losing a parent. This book helped me tremendously in making my daughter understand the death of her dad and it helped her comprehend the concept of "death" a bit more."
My Superhero Grandpa: A Story for Children Who Have Lost a Loved One
The Rabbit Listened (3-5 years)
Up In Heaven (3-5 years) – talks about pet dogs recommended by Reena.
For 4+ years
Usborne: Lift-the-flap – Why Do Things Die? (4-6 years)
Cry, Heart, But Never Break (4-8 years)
Nana Upstairs and Nana Downstairs (4-8 years)
The Memory Box: A Book about Grief (4-8 years) – what a lovely concept! We should all create a memory box of the people will love.
The Heart and the Bottle by Oliver Jeffers (4/5-8 years) – another highly highly recommended book. Asha has it and recommends it to everyone. The story is about loss, dealing with it and having the courage to move on. The illustrations are are so powerful that you feel like you are part of the story. Again, the illustrations convey the message with minimal words.
The Boy and the Gorilla by Jackie Azúa Kramer (4-8 years). Author Nalini Sorensen recommends this book for children who have lost a parent.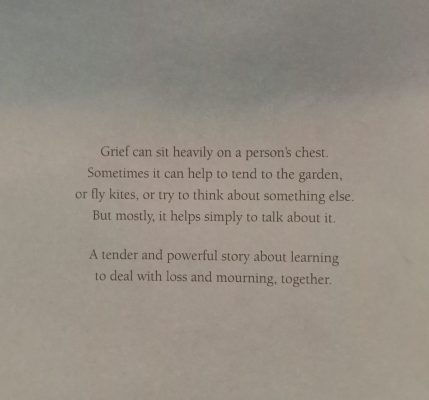 Amardeep gifted this award winning book recently when Asha's mom passed away. In her words:
Minimal text with stunning water colours allows you to admire the beauty in the poignance of the story. A little boy's mom has died and he is feeling lost as he misses her dearly. A friendly gorilla talks to him and explains how his mom can be a part of his life by celebrating the memories he created with her; now with his dad. Reading it was cathartic.
The Invisible Leash: A Story Celebrating Love After the Loss of a Pet (4-8 years)
The Invisible String (4-8 years) – this comes highly recommended to deal with any kind of separation anxiety, helps to cope with grief and loss.
Life is Like the Wind (Big Hug Books) Tejaswi recommends this book. Quoting her:
This is an absolutely amazing book about death, which has been brought about very simple and smoothly. It doesn't speak about grief in particular for loss of a dear one, but rather puts a light on the fact that life itself is like that – one day it ends. All the different cultures that say different things about what happens after has been talked about, which gives the reader a comfort zone making them think about what could have really happened afterwards, rather than emphasizing on the loss that the family member maybe facing.
When Sadness Comes to Call (Big Emotions) for 4 years+ – a book on dealing with sadness.
For 5+ years
Thammi's Gift by Himani Dalmia for 5-8 years. Read Amardeep's detailed review here. An excerpt:
One day, her grandmother (who she fondly called Thammi) suddenly passed away. Devika missed her reading sessions with Thammi, even though her parents tried their best to make up for it. One night, just as Devika couldn't stop worrying about her first day at school, her beloved Thammi re-appears to take her on a magical reading adventure that made both my child and me exclaim, "wow"! An adventure, that not only calmed her nerves, but leveraged her love for reading to help her sail through school smoothly.
The Ammuchi Puchi for 5-9 years depending upon reading levels and emotional maturity
Asha has this book and highly recommends it for 5+ years. It talks about the death of a grandmother whose grandkids were very attached to her. And how they find a way to celebrate her memories.
Boo! When My Sister Died by Richa Jha. Illustrated by Gautam Benegal Age group: 4/5 – 8 years. Asha, on this book:
If you ask who should read this book, I'd say any child who has lost a sibling or a family member who is mature enough and ready to understand the concept of death; also for a parent who has lost a child. This book directly talks about the death of Noorie's sister Zoya, how she misses playing with her and how she knows Zoya won't come back. It shows the child going through grief, being angry, struggling to cope with the loss of her sister – her true playmate, and then accepting that she can move on with the help of Zoya's friend Dhara, despite missing Zoya. She comes to terms with her sister's death and accepts Zoya's memories will always be with her. This is a poignant book with Gautam Benegal's impactful illustrations that shows a child's journey of dealing with death through enormous anger, grief and acceptance. It's a tough topic to handle but Richa & Gautam together have created a beautiful book – almost like a poetic piece of poignant art that draws you to it, over and over again.
We at Kids Book Café are Pickle Yolk Books' Community & Affiliate Partners! So should you wish to buy this book, please feel free to use our Special Promo Code KBC50 to avail a discount of Rs. 50 on any book you purchase from the Pickle Yolk Books Shop (on their website). Simply click this link below to buy the book you like!
Gone Grandmother (English) published by Tulika Books
Gone Grandmother/Nani Chali Gaiyen (Hindi)
Paati's Rasam (40 pages) published by Karadi Tales. A gentle story about losing one's grandmother.
Fox: A Circle Of Life Story for 5 yrs+ on what happens after an animal's death and how each dead organism contributes to the natural ecosystem. it's a scientific explanation. Member Pooja Rathod has shared a detailed review in the group.
Grief Is Like a Snowflake (5-8 years)
Grandad's Bench (5-8 years) – Neerja recommended this to Amardeep. Quoting her, "Grandad's Bench has a beautiful story about the relationship between a grandfather and grandson and how the grand dad falls sick and passes away. It's told in such a beautiful way but is a little advanced for a 3 year old. I feel you can buy it for your reference and take cue from it on how to narrate the whole thing to your kiddo."
Michael Rosen's Sad Book (5-7 years)
Paati's Rasam published by Karadi Tales (for 6 years+)
The Miracle on Sunderbaag Street (for 6-8 years) by Nandita da Cunha (also a kbc member!) is a beautiful book about a girl who deals with the loss of her mother with the help of her craft teacher in the most inspiring way. This is more about moving on while cherishing your loved one's memories. Read Amardeep's detailed review here.
Holes in the Sky (6-9 years) This book gently introduces the concept of mortality of grandparents.
The Yellow Suitcase (6-10 years)
When Grandpa died for older kids (reviews on amazon mention a 9 yo)
Non fiction books that take the scientific approach:
First Questions and Answers: Why Do Things Die? (First Questions & Answers) – 3-5 years (12 pages)
Heartfelt thanks to Neerja, Tejaswi, Anuradha, Amardeep, Cauvery, Anusha, Pooja, Priyanka, Reena for contributing to this post. Shout-out to #the13yearold for curating this post from the facebook group.
[Note from Team Kids Book Café: For your convenience, affiliate links (MARKED IN PINK) to some of the book titles & images have been added to enable you to buy the books from AMAZON, should you wish to! A very small amount of money comes to kidsbookcafe.com when you purchase a book via the amazon affiliate link provided (at absolutely no extra cost to you!). Do let us know if you need information about other children's books by writing to asha@kidsbookcafe.com.]