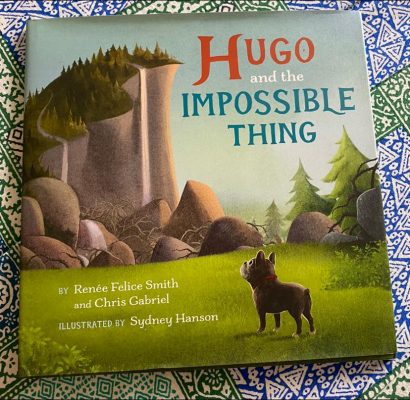 Achira has shared such an incredible gem with us! Excerpts from her review in the fb group where inside pages have been shared:
Hugo and the Impossible Thing written by Renee Felice Smith and Chris Gabriel, illustrated by Sydney Hanson for 4-7 years (40 pages)


The story is about one brave little dog Hugo who dared to dream. When every animal in the forest never thought of crossing the impossible thing, Hugo wanted to give it a try! He asked all his friends- the fox, the otter, the bear but no one dared to try. But Hugo just had to! Unless he tried how would he know what is there. If it is scary, bad or something great!

Do you think Hugo can do this? Would he able to succeed all by himself!!

A tale of bravery, not giving up and friendship- Hugo makes you realise that you must never call a thing impossible just because everyone says it is! By just trying to do an impossible thing you are not only being incredibly brave but you give courage to others around. We were all super proud of Adu for trying to do a full 1 hour class with 9-10 year olds just because he loves his brother too much and didn't want to give up before trying. We will continue basketball with the right age group now.
Books On Big Emotions
Barbara Throws a Wobbler (for 3-7 years) by Nadia Shireen (author of Good Little Wolf). Quoting Achira who has shared inside pages in the kbc fb group:
Barbara here is very familiar to many of us. She is in a bad mood but won't accept it! And soon the mood goes from bad to worse to worst when it turns into a giant wobbler! So big and enormous that she feels scared she would be stuck forever. Adu told me while reading the page that when he is very angry he feels just the same and he is just not able to stop feeling angry. The wobbler grows bigger and bigger for him too. But with Barbara Adu realised it's his choice to make. It is actually in his hands to keep the wobbler or let go of it. Does it finally leave Barbara or stays around?

Read this awesome book -Barbara throws a wobbler by Nadia Shireen to know how to deal with our own wobblers from time to time. The book has different moods at the end which is a fun way to look back n talk about! We had a long chat on when we had each of those moods.
MY MOUTH IS A VOLCANO by Julia Cook. All of Julia Cook's books come highly recommended to address various issues. She has written a book on almost everything!
KEEPING YOUR COOL: A Book about Anger (Growing God's Kids)
Maverick Early Readers is a series to help children become independent readers and comes in different levels.
Nell's Spells and Zip! Zap! – RED (Level 2): (Red Early Reader)
The Jelly That Wouldn't Wobble – Purple (Level 8): (Purple Early Reader) (Purple Band)
Usborne First Reading Books come in different levels.
LITTLE PRINCESS SERIES by Tony Ross for 2-5/6 years (32 pages)
THE NOT SO LITTLE PRINCESS SERIES by Tony Ross for 5-7 years (64 pages)
The Smallest Girl in the Class for 3-6 years (40 pages)
Little by Little by Amber Stewart. Veni Emilda has shared this brilliant review:
Pranav has always been a slow and steady learner, be it skills or academics.. The only problem I faced was when he would refuse to try anything new with the fear of failing.. When we came across this lovely book "little by little", it was a game changer.

The book is about Scramble, an otter, whose 'can do list' has a lot of things but his 'can't do list' has only one thing and that's SWIMMING.. "Whoever heard of an otter who can't swim?" says his friend. Scramble only wish is to swim, jump from the highest rock into the deepest pool. One day Scramble's sister says "you have to start small. Starting small can turn can't do into can do". He starts small on Monday and over the week, he slowly learns the skill of swimming.. And on Sunday, amidst the cheers of his family and friends, Scramble jumps from the highest ever rock into the deepest ever pool. His proud sister tells her very wet little brother "you started small and finished BIG!! "

It's an awesome book on starting small and never give up. I loved how the author illustrates on learning swimming from Monday to Saturday and shows that nothing can be learnt overnight. Pranav relates to the book so well now and everytime we are trying to do something new, Scramble is always a part of it. Initially, Pranav would end up crying after failing two three times. Now he understands, it's ok to fail and try again the next day.
Dancing Dinos at the Beach (Step into Reading): Step Into Reading 1
V Is for Vegan: The ABCs of Being Kind for 3-7 years
The Bear and the Piano by debut author-illustrator David Litchfield is an award winning book (now triology) for 4-7 years (40 pages). Priyanka has done a read aloud in our kbc fb group here.
The other two books in the series are:
The Bear, The Piano, The Dog and The Fiddle
The Bear, the Piano and Little Bear's Concert
Drum City 3-7 years
GRANDMA BIRD by award winning author Benji Davis
Hermelin: The Detective Mouse for 5-7 years (32 pages)
The Lending Zoo by award winning Frank Asch for 4-8 years (32 pages)
OI AARDVARK! by Kes Gray (32 pages). All of Kes Gray's books are superhits with our members!
A Friend for Yoga Bunny for 4-8 years (40 pages)
What's Inside A Flower?: And Other Questions About Science & Nature by Rachel Ignotofsky. Kausar has shared some inside pictures along with activities she has done with her son based on this book right here in the kbc fb group. In her words:
For Sunday morning, we picked up this book for our park picnic. And my 4 year old was so inspired by it that we spent the morning collecting different flowers that had fallen from the trees. We looked at the leaves, searched for earthworms and bugs, saw different plants, seeds and fruits growing in the park. We collected the flowers and once we got back home, we decided to make a small book of our own.

Cannot recommend this book enough!
Mabel and the Mountain: a story about believing in yourself (32 pages) Punidha highly recommends this book and has shared inside pages here.
My First Shloka Book recommended by Akanksha Priya Jha for 2.5 years+ in our fb group here.
Shlokas: Hindu Chants for Children (Campfire Awakening) for 3-7 years. Pallavi Purohit has this one.
Mini's Books (Mini Series) by Nandini Nayar for 5/6-8 years (72 pages)
Mini's Questions by Nandini Nayar for 5/6-8 years (72 pages)
Marvin Redpost: Kidnapped at Birth: Book 1
Marvin Redpost: Alone in His Teacher's House: Book 4 – (128 pages)
Marvin Redpost: A Flying Birthday Cake?: Book 6 – Rejacketed (128 pages)
Anna, Banana, and the Recipe for Disaster (Volume 6) for 6-10 years (128 pages)
The Invisible Fran (Volume 3) (Franny K. Stein, Mad Scientist) for 7-10 years (112 pages)
The Funny Life of Teachers for 8 years+ (208 pages)
The Funny Life of Pets for 8 years+ (240 pages)
TEN SECOND BOOK OF LAUGHS AND SURPRISES by Shamika Chaves (124 pages). In Achira's words (you can see inside pages here in the fb group),
There are times when the cover of a book draws me towards it and I keep thinking about the book till I have it. This little powerhouse of fun and laughter is one such book!

Ten seconds book of laughs and surprises by Shamika Chaves (remember the illustrations of Pinkoo Shergill Pastry Chef) is surely going to make you laugh hard. Simple one line fun facts, many of which will surprise you surely and awesome illustrations is what makes this book special.

We read this together- all four of us and ohh what fun it was.
Confessions of a Former Bully by Trudy Ludwig (author of the acclaimed The Invisible Boy) for 8-12 years
CALDECOTT MEDAL BOOKS/AWARD WINNING BOOKS:
HELLO LIGHTHOUSE: WINNER OF THE CALDECOT MEDAL 2019 for 3-6 years (48 pages) [many of us have this one!]
Mirette on the High Wire (32 pages)
The Adventures of Beekle: The Unimaginary Friend by Dan Santat – the author-illustrator of AFTER THE FALL fame! (40 pages)
Joseph Had a Little Overcoat (40 pages)
The Undefeated for 5-7 years (40 pages)
The Hundred Dresses by Elenor Estes (Newbery Honor classic, illustrated by a Caldecott Medalist)
The Family Under the Bridge by Natalie for 8-12 years
[Note from Team Kids Book Café: For your convenience, affiliate links (MARKED IN PINK) to some of the book titles & images have been added to enable you to buy the books from AMAZON, should you wish to! A very small amount of money comes to kidsbookcafe.com when you purchase a book via the amazon affiliate link provided (at absolutely no extra cost to you!). Do let us know if you need information about other children's books by writing to asha@kidsbookcafe.com.]