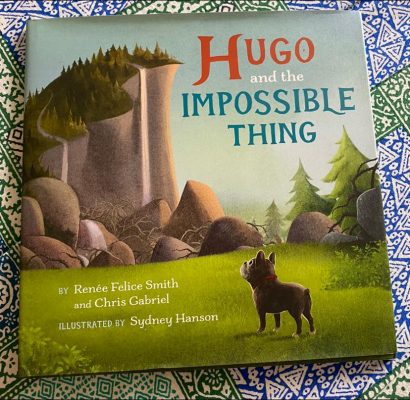 Achira has shared such an incredible gem with us! Excerpts from her review in the fb group where inside pages have been shared:
Hugo and the Impossible Thing written by Renee Felice Smith and Chris Gabriel, illustrated by Sydney Hanson for 4-7 years (40 pages)


The story is about one brave little dog Hugo who dared to dream. When every animal in the forest never thought of crossing the impossible thing, Hugo wanted to give it a try! He asked all his friends- the fox, the otter, the bear but no one dared to try. But Hugo just had to! Unless he tried how would he know what is there. If it is scary, bad or something great!

Do you think Hugo can do this? Would he able to succeed all by himself!!

A tale of bravery, not giving up and friendship- Hugo makes you realise that you must never call a thing impossible just because everyone says it is! By just trying to do an impossible thing you are not only being incredibly brave but you give courage to others around. We were all super proud of Adu for trying to do a full 1 hour class with 9-10 year olds just because he loves his brother too much and didn't want to give up before trying. We will continue basketball with the right age group now.
A Dog's Tale: Life Lessons for a Pup by Michael Rosen, illustrated by Tony Ross. This is one book most of us grabbed from the Scholastic Sale!
Your Magnificent Chooser by John Ortberg – highly recommended by Mona. She has shared the inside pages here in the fb group. In her words,
This incredible book is one solution for many behavioural aspects in kids. It tells you how to live like a boss of your own. If you loved 'When God Made You' then you are going to adore this book even more.
Rosie Greening's NEVER TOUCH series (touch and feel books for babies and toddlers)
LEARNING BINDERS FOR TODDLERS – interactive busy books that are super fun and engaging. Highly recommended by kbc member Khushboo!
101 TRUCKS: AND OTHER MIGHTY THINGS THAT GO
Books On Big Emotions
Grumpycorn
The Grumpy Pirate – asha has shared an inside page here.
Barbara Throws a Wobbler (for 3-7 years) by Nadia Shireen (author of Good Little Wolf). Quoting Achira who has shared inside pages in the kbc fb group:
Barbara here is very familiar to many of us. She is in a bad mood but won't accept it! And soon the mood goes from bad to worse to worst when it turns into a giant wobbler! So big and enormous that she feels scared she would be stuck forever. Adu told me while reading the page that when he is very angry he feels just the same and he is just not able to stop feeling angry. The wobbler grows bigger and bigger for him too. But with Barbara Adu realised it's his choice to make. It is actually in his hands to keep the wobbler or let go of it. Does it finally leave Barbara or stays around?

Read this awesome book -Barbara throws a wobbler by Nadia Shireen to know how to deal with our own wobblers from time to time. The book has different moods at the end which is a fun way to look back n talk about! We had a long chat on when we had each of those moods.
The Worrying Worries (Problems/Worries/Fears) by Rachel Rooney. Amardeep has this one and has shared inside pages in our fb group here. Excerpts from her review:
We had recently read a lovely book on how to deal with worrying worries- those worries that cause a stomachache, take away your appetite and feed on your fears. The kind that make you want to think about them endlessly and bite your nails. What do you do with them?

The book offers excellent self help tips that children can use when worried – calming techniques like picturization, deep breathing, yoga, and even hugging yourself! So we closed our eyes, and imagined that the bright sun was out, there was no fog, and that we were able to find our way easily to Neil's school, which wasn't lost in the fog after all! And when we opened our eyes, there was a big smile on Neil's face!

Sometimes our children find it difficult to even know when they are worrying. This book helps them understand what it feels like when you are worried, so that they can identify it.

There are other books in this series The Problem with Problems (Problems/Worries/Fears), The Fears You Fear (Problems/Worries/Fears).
MY MOUTH IS A VOLCANO by Julia Cook. All of Julia Cook's books come highly recommended to address various issues. She has written a book on almost everything!
BAD CASE OF TATTLE TONGUE is another book by Julia Cook.
ROARING MAD RILEY
KEEPING YOUR COOL: A Book about Anger (Growing God's Kids)

Behaviour Matters series by Sue Graves for 3-6 years (32 pages) touches upon many topics that our members seek books for! Divya has two books from this series and she has shared the inside pages in the kbc fb group here. In her words:
I bought Monkey needs to listen from behavior matters series when Darwin was around 3 and was not paying attention to whatever we would say to him.

Mr. Croc has an after class activity planned. And everyone is excited. Monkey doesn't pay heed to the instructions given by Mr. Croc, nor he listens to his team mates. What happens because of his actions and how he corrects himself is the story. The story is simple and easy to understand. After reading it to Darwin I just need to say Monkey needs to listen and he will understand what I'm trying to say.

Tiger throws a tantrum in library when he doesn't get the book he wants to read and everyone from his class doesn't want to be with tiger because of his tantrum. The teacher helps tiger realize his mistake and they both suggest how to deal the situation.
BEHAVIOUR MATTERS: KOALA MAKES THE RIGHT CHOICE: A book about choices and consequences
BEHAVIOUR MATTERS: TURTLE COMES OUT OF HER SHELL – A BOOK ABOUT FEELING SHY
Behaviour Matters: Hippo Owns Up – A book about telling the truth:
Giraffe Is Left Out – A book about feeling bullied: Younger Readers (5-8) (Behaviour Matters)
Elephant Learns to Share – A book about sharing (Behaviour Matters)
BEHAVIOUR MATTERS: LLAMA STOPS TEASING: A book about making fun of others
BEHAVIOUR MATTERS: RHINO LEARNS TO BE POLITE – A BOOK ABOUT GOOD MANNERS
BEHAVIOUR MATTERS: SLOTH GETS BUSY: A book about feeling lazy
BEHAVIOUR MATTERS: FLAMINGO IS BRAVE: A book about feeling scared
Cheetah Learns to Play Nicely – A book about being a good sport (Behaviour Matters)
Croc Needs to Wait – A book about patience (Behaviour Matters)
Lion's in a Flap – A book about feeling worried (Behaviour Matters)
Kiwi Tidies Up – A book about being messy (Behaviour Matters)
Monkey Needs to Listen (Behavior Matters)
SUE GRAVES HAS ANOTHER SERIES CALLED OUR EMOTIONS AND BEHAVIOUR for 3-5 years. Punidha has shared some inside pictures of one of the books she has in the fb group here.
BUT WHY CAN'T I? – A BOOK ABOUT RULES
WHY SHOULD I?: A BOOK ABOUT RESPECT
I DON'T WANT TO WAIT!: A BOOK ABOUT PATIENCE
Respect and Take Care of Things (Learning to Get Along) – Divya highly recommends this book for children who throw their toys etc (40 pages). There are other books in this LEARNING TO GET ALONG series.
PERFECT by Max Amato (48 pages) for 3-7 years. Amardeep has this.
Outside, Inside by Caldecott honoree LeUyen Pham (48 pages) for 3-6 years on what happened when we all were forced to stay inside owing to the covid-19 pandemic.
Maverick Early Readers is a series to help children become independent readers and comes in different levels.
Nell's Spells and Zip! Zap! – RED (Level 2): (Red Early Reader)
The Jelly That Wouldn't Wobble – Purple (Level 8): (Purple Early Reader) (Purple Band)
Usborne First Reading Books come in different levels.
BOOKS ON ART
Katie series by James Mayhew . Sherry has shared a detailed review of the books in our fb group here. Quoting her:
Sharing one of the best series we have on art.

Katie by James Mayhew

We have two books from the series and I am definitely looking out to add more. Both the books are amazing and takes you on an exciting art adventure with Katie. Katie realises that she can go inside the paintings and they turn real. She is very curious and explore the paintings and the world inside them. This is one of the best books to introduce art, artists and art galleries. We really enjoyed our time with Katie.

Below is the list of masterpieces that we were introduced to.
In Katie's Picture Show:
1. The Hay Wain by John Constable
2. Madame Moitessier Seated by Jean-Auguste-Dominique Ingres
3. Les Parapluies by Pierre-Auguste Renoir,
4. Tropical Storm With a Tiger by Henri Rousseau,
5. Dynamic Suprematism by Kasimir Malevich
1. Mona Lisa by Leonardo Da Vinci
2. St George and the Dragon by Raphael
3. Primavera by Sandro Botticelli
4. The Lion of St Mark by Vittore Carpaccio
5. An Angel in Red with a Lute by Giovanni Ambrogio de Predis.
LITTLE PRINCESS SERIES by Tony Ross for 2-5/6 years (32 pages)
THE NOT SO LITTLE PRINCESS SERIES by Tony Ross for 5-7 years (64 pages)
The Smallest Girl in the Class for 3-6 years (40 pages)
Little by Little by Amber Stewart. Veni Emilda has shared this brilliant review:
Pranav has always been a slow and steady learner, be it skills or academics.. The only problem I faced was when he would refuse to try anything new with the fear of failing.. When we came across this lovely book "little by little", it was a game changer.

The book is about Scramble, an otter, whose 'can do list' has a lot of things but his 'can't do list' has only one thing and that's SWIMMING.. "Whoever heard of an otter who can't swim?" says his friend. Scramble only wish is to swim, jump from the highest rock into the deepest pool. One day Scramble's sister says "you have to start small. Starting small can turn can't do into can do". He starts small on Monday and over the week, he slowly learns the skill of swimming.. And on Sunday, amidst the cheers of his family and friends, Scramble jumps from the highest ever rock into the deepest ever pool. His proud sister tells her very wet little brother "you started small and finished BIG!! "

It's an awesome book on starting small and never give up. I loved how the author illustrates on learning swimming from Monday to Saturday and shows that nothing can be learnt overnight. Pranav relates to the book so well now and everytime we are trying to do something new, Scramble is always a part of it. Initially, Pranav would end up crying after failing two three times. Now he understands, it's ok to fail and try again the next day.
Dancing Dinos at the Beach (Step into Reading): Step Into Reading 1
V Is for Vegan: The ABCs of Being Kind for 3-7 years
The Bear and the Piano by debut author-illustrator David Litchfield is an award winning book (now triology) for 4-7 years (40 pages). Priyanka has done a read aloud in our kbc fb group here.
The other two books in the series are:
The Bear, The Piano, The Dog and The Fiddle
The Bear, the Piano and Little Bear's Concert
Drum City 3-7 years
GRANDMA BIRD by award winning author Benji Davis
Hermelin: The Detective Mouse for 5-7 years (32 pages)
The Lending Zoo by award winning Frank Asch for 4-8 years (32 pages). Frank Asch has an interesting series of books on FOOD which could help fussy eaters!
OI AARDVARK! by Kes Gray (32 pages). All of Kes Gray's books are superhits with our members!
A Friend for Yoga Bunny for 4-8 years (40 pages)
What's Inside A Flower?: And Other Questions About Science & Nature by Rachel Ignotofsky. Kausar has shared some inside pictures along with activities she has done with her son based on this book right here in the kbc fb group. In her words:
For Sunday morning, we picked up this book for our park picnic. And my 4 year old was so inspired by it that we spent the morning collecting different flowers that had fallen from the trees. We looked at the leaves, searched for earthworms and bugs, saw different plants, seeds and fruits growing in the park. We collected the flowers and once we got back home, we decided to make a small book of our own.

Cannot recommend this book enough!
Whales (Pre-Reader) (National Geographic Readers) 24 pages (says for 2-5 years)
Whales: Level 1 (National Geographic Readers) 24 pages
Whales: Level 4 (National Geographic Readers) 48 pages
What's the Difference? Animals: Spot the difference in the animal kingdom! by DK. Achira highly recommends this and has shared a detailed review with inside pages and contents in our fb group:
Do you have a child who has a million questions buzzing through his or her mind?? And while they are very pertinent most of the times you have to google for the answer. Happens with me many a times. That's when having a book helps.

Adu, my 5 year old is a complete chatterbox who goes on and on whole day. But the thing he likes the most is spot the difference! And when it comes to finding the difference between animals that look very close it can be fun indeed. Not very long back, he wanted to know the difference between cheetah, Jaguar and leopard. He has been obsessed with big cats ever since. So when I saw this book I had to get it for him because I knew he will be absolutely excited to spot the difference among many known and unknown animals.

This is a beautiful book that helps you spot the difference between animals belonging to the same family or with very close resemblances in our animal kingdom. They look same but are different in a very subtle way.

The best part about the book is the right amount of information it has. Not too much that clogs your brain but just 3-4 simple facts that is simple and easy to remember and relate. And the illustrations are just very realistic. Just choose the one that fascinates you and read on!

We love DK books and I can say you can never go wrong with them!
Mabel and the Mountain: a story about believing in yourself (32 pages) Punidha highly recommends this book and has shared inside pages here.
What's In Your Mind Today? by Louise Bladen (28 pages)
How To Change The World by Rashmi Sirdeshpande (32 pages)
Dolphin Boy: 15th Anniversary Edition (32 pages) by Michael Morpurgo
Franklin's Flying Bookshop (Franklin and Luna) (32 pages) In Payal's words:
It's a lovely story of friendship between a dragon and a girl united via their love for books and how they think of an extremely creative way of sharing their love for books with others!! Being a book nerd myself this struck a chord for sure!! It has some lovely imagery and illustrations as well!
Where Three Oceans Meet by Rajani LaRocca (40 pages). Sharadhi has shared the inside pages here in our kbc fb group.
Everytime Grandpa describes the trips that we have been to or speak about any of those old memories Stavya is in awe.. The people, the food and mostly the places we speak about are all fascinating to her and she wants to see them too… This reminded the book we read a while ago called "Where Three Oceans Meet".
The story is about Indian American family reconnecting with their family in India and taking a trip together. Grandma, mom and little girl Sejal go to see what's at the tip of India – trip to Kanyakumari ,where Three Oceans Meet – Indian ocean, Bay of Bengal and Arabian Sea.
The experience of sight, sound and food they encounter are such a delight to read.. They start from Bangalore and visit their friends in Coimbatore and finally go to Kanyakumari. The vibrant illustrations of the path along and the places they visit is lovely. It's the celebration of culture, love and homecoming .
By the end of the book we realize it's not about the destination, it's mostly about the memories we make and things we learn from it .
Sejal learns about how strong the mother and daughter's bond is, and how comfortable they feel, even when they are across countries. Three generations stronger togather, just like the braid she puts three entwined to one which makes it stronger, like the three oceans stronger than any alone.
My First Shloka Book recommended by Akanksha Priya Jha for 2.5 years+ in our fb group here.
Shlokas: Hindu Chants for Children (Campfire Awakening) for 3-7 years. Pallavi Purohit has this one.
A To Z Of Indian Cities: Ahmedabad to Zunheboto for 7 years+
Mini's Books (Mini Series) by Nandini Nayar for 5/6-8 years (72 pages)
Mini's Questions by Nandini Nayar for 5/6-8 years (72 pages)
Marvin Redpost: Kidnapped at Birth: Book 1
Marvin Redpost: Alone in His Teacher's House: Book 4 – (128 pages)
Marvin Redpost: A Flying Birthday Cake?: Book 6 – Rejacketed (128 pages)
Anna, Banana, and the Recipe for Disaster (Volume 6) for 6-10 years (128 pages)
The Invisible Fran (Volume 3) (Franny K. Stein, Mad Scientist) for 7-10 years (112 pages)
The Funny Life of Teachers for 8 years+ (208 pages). Excerpts from Achira's review in the group where she has shared some inside pages:
The story is about the author's experience with his teachers in school and Divit has been rolling with laughter reading it. We all have been curious to know about how are teachers are beyond the walls of classroom. And this gives you that peep inside their funny lives! Divit loves a book with illustrations and this book with the super funny illustrations is exactly that! It brings life to the book indeed.

Recommend age is 8 – 99 years bcz it is so funny and relatable!
The Funny Life of Pets for 8 years+ (240 pages)
TEN SECOND BOOK OF LAUGHS AND SURPRISES by Shamika Chaves (124 pages). In Achira's words (you can see inside pages here in the fb group),
There are times when the cover of a book draws me towards it and I keep thinking about the book till I have it. This little powerhouse of fun and laughter is one such book!

Ten seconds book of laughs and surprises by Shamika Chaves (remember the illustrations of Pinkoo Shergill Pastry Chef) is surely going to make you laugh hard. Simple one line fun facts, many of which will surprise you surely and awesome illustrations is what makes this book special.

We read this together- all four of us and ohh what fun it was.
Maya Angelou (Poetry for Young People)
Maya Angelou's poetry books for kids
The Untold Stories Of Indian Tigers for 10 years+ In Rakshita's words:
Knowing how much Medhansh loves reading about animals, I thought to pick this one for our travel read. Infact I happened to read few myself and what I loved how the stories have been personified with beautiful life learnings.
Confessions of a Former Bully by Trudy Ludwig (author of the acclaimed The Invisible Boy) for 8-12 years
Unfair by Rasil Ahuja recommends this book for 10 years+. It's a book on discrimination over colour of the skin
Home Court (STAT: Standing Tall and Talented #1): Standing Tall and Talented (STAT, 1) – on dealing with bullies for 8-12 years
Restart by Gordon Kormon for 8-12 years (on how a bully restarts his life)
CALDECOTT MEDAL BOOKS/AWARD WINNING BOOKS:
HELLO LIGHTHOUSE: WINNER OF THE CALDECOT MEDAL 2019 for 3-6 years (48 pages) [many of us have this one!]
Mirette on the High Wire (32 pages)
The Adventures of Beekle: The Unimaginary Friend by Dan Santat – the author-illustrator of AFTER THE FALL fame! (40 pages)
Joseph Had a Little Overcoat (40 pages)
The Undefeated for 5-7 years (40 pages)
The Hundred Dresses by Elenor Estes (Newbery Honor classic, illustrated by a Caldecott Medalist)
The Family Under the Bridge by Natalie for 8-12 years
[Note from Team Kids Book Café: For your convenience, affiliate links (MARKED IN PINK) to some of the book titles & images have been added to enable you to buy the books from AMAZON, should you wish to! A very small amount of money comes to kidsbookcafe.com when you purchase a book via the amazon affiliate link provided (at absolutely no extra cost to you!). Do let us know if you need information about other children's books by writing to asha@kidsbookcafe.com.]