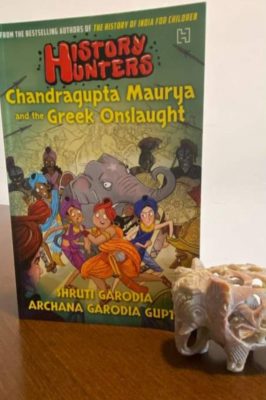 Title: History Hunters Book 1: Chandragupta Maurya and the Greek Onslaught
Author: Shruti Garodia & Archana Garodia Gupta
Illustrator: Priya Kuriyan
Type: Paperback
Pages: 136
Publisher: Hachette
Age: 8 to 12 years
Zoya, Eknoor and Ansh's parents work at the Miracle in the Forest Eco resort. They are excited to meet the new wildlife expert who arrives with his teenage son Rohan and an adorable elephant, Elfu. What starts as a simple day picnic and exploration suddenly turns into a time travel adventure into Indian History when Elfu's exploration of some ancient cave painting starts off a strange History app download.
Moments later, the four kids along with Elfu find themselves right in the middle of a battlefield in 326 BCE, just at the epic moment when Alexander asks Porus how he wants to be treated. As they recounted the famous answer, they come face to face with a 16 year old Chandragupta Maurya. As history buff and avid reader, Zoya can't believe her luck , the kids concoct a story and follow Chandragupta to Takshashila. As they keep making up new tales to explain their phones and the English 'Lipi' and car and air conditioner and more, they meet the great Acharya Chanakya.
The arduous studies at Takshashila from war, to dharma, self improvement anvikshiki, debates, economy, agriculture and justice give us a glimpse in to how holistic Indian education once was. We also get a lovely peek into Greek life around that time, clothes and the rise of Jainism. Acharaya Charaka and his concoctions will make you laugh but will also remind you of the origins of chyawanprash and advanced Indian ayurvedic medicines.
What other fun facts will we garner? Which other interesting characters will we meet? Will the sly Chanakya figure out who they were? Would the much in demand Gaja, precious Elfu be taken away for the army? How will the kids get back to the current time zone?
And more importantly, where will their next adventure take the History Hunters?
A well written adventure with fun characters, a generous sprinkle of humour with gorgeous illustrations that bring alive the time period, this book was a treat to a history lover like me. I love the concept of History as a story and with the time traveling app and History Hunters , the authors have created a delightful mix of Enid Blyton-esque Adventures of the faraway tree, Five find-outers with a delicious dollop of history. There is an excellent compendium of information with facts and maps at the end. A clear Confessions page alerts us to what is fact and fiction.
All in all, this book is a treat for kids and I look forward to more adventures from this fun gang.
P.s.- this book was sent to me for an honest review by the wonderful Asha Chaudhry who runs the kindest and most helpful book community on Facebook I have seen. I strongly recommend it for raising a reader. Do check out Kids Book Café.
ADDED BY ASHA: History Hunters: Akbar and the Agents from the East is the next book in this series!
If you enjoyed this review and wish to buy the book from Amazon (kbc affiliate link).
CLICK & BUY NOW!