Title: Tails and Tales – Animal Stories from Indian Mythology 
Author: Reeja Radhakrishnan 
Illustrator: Megha Punater
Publisher : Puffin Books (An imprint of Penguin Random House)
No. of pages: 240 
Type: Paperback
Recommended Age: 10 years+ (publisher's recommendation is 8 years and up) 
I am posting this review on behalf of my 10-year-old boy, Bhavik. 
This book is a beautiful collection of 30 mythological stories, involving animal characters from our Indian mythology. The book is divided into two parts. The first one is Deities and Demons and the other one is Friends and Foes. Each section contains 15 stories. There is a summary of a few lines at the beginning of every story which gives you an idea of what the story is about.
There are stories about the adventures of a little frog called Nagdutta who takes multiple births to pay his respects to Lord Mahavira, how Ganesha got his vahana as Mooshika, the mouse, how Krishna killed Bakasura, how Garuda became Vishnu's divine vehicle, how Devi Durga came into being to destroy the demon Mahishasura and many more. Did you know that Hanuman had a role in the Mahabharata too?   Did you know that a squirrel also played its part in helping Rama in rescuing Sita? This book has many such tales from India's diverse cultures, religions and mythology which transports us to the era of gods, goddesses, Buddha and Mahavira. Some of them are tales of friendship and just stories or snippets from different eras of time. 
These stories are impactful in such a way that they impart life lessons without being preachy. They instill in us the values of compassion, kindness, valor and wisdom and educate us about our rich past with these very interesting stories. The teachings imparted and the message conveyed by a lot of these stories seem relevant and important in today's times. I have never seen a mythology book that is not only very enriching but also captivating. I thoroughly enjoyed reading this book and also learned a lot of new things about animal mythology. The thing that I liked most about this book is that all the stories are wonderfully detailed yet easy to read and understand. This book is a wonderful compilation of the stories which have been passed on to us generation after generation.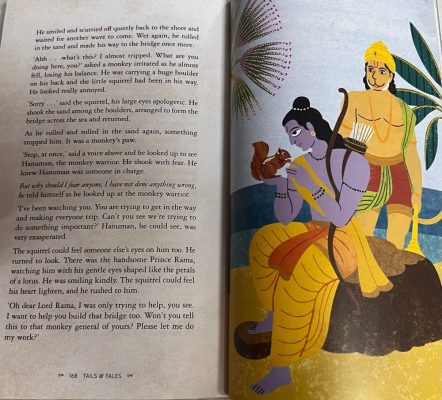 Every story of Tails and Tales has a beautiful page of illustration which helps our imagination to be more vivid and colorful. All the pages of this book are glossy which we don't get to see every day.
I would recommend this book to anyone who likes reading short stories and mythology. I would also recommend this book for those who are not interested in mythology as they can read it like any other short story book and still love it.  
If you enjoyed this review and would like to buy the book from Amazon (kbc affiliate link),
CLICK & BUY NOW!
Disclaimer: Bhavik is a part of the #kbcReviewerSquad and received this book as a review copy from the publisher.