Book: Diary of an Awesome Friendly Kid – A Wimpy Kid story
Author: Jeff Kinney
Type: Hardcover
Age: 7-12 years
(Note from Asha: This is being posted by me on behalf of my childoo Aarini, aka #the11yearold)
Jeff Kinney, the author of the very popular book series 'Diary of a Wimpy Kid' (which is about this kid named Greg Heffley), has started an entirely new book series on Greg's best friend's diary. Remember the kind of kiddish guy who never intends to fall into trouble (yet, somehow always does probably because of Greg), Rowley Jefferson?! Yes, this series is about him.
Now, Rowley didn't really want Greg to find out about the fact that he "borrowed" the idea of keeping a journal/diary, because he knew Greg was going to say that he "stole" his idea of the journal. But ideas are never unique, right? Anyway, the first book – this one, is just a summary of Rowley and his life, although he mentions A LOT about Greg in this book. Afterall, Greg is his best friend.
All throughout the book, Rowley keeps saying that he will keep it all about him and not Greg, but mid-way through, he starts writing a biography about Greg and some of his adventures with him! From this it's pretty obvious that he considers Greg as a big part of his life. He also writes about how is parents aren't so happy about him hanging out with Greg (apparently bad influence!), and some other weird/interesting stuff that you will find out about when you read the book. I'm not going to give any spoilers, because you gotta read the book!
What I like about this book, is that it's funny knowing about the life of Rowley which otherwise we didn't really pay attention to in the previous Wimpy Kid books. It's an interesting book with a little less detailed drawings than Greg's journal. His handwriting is a bit fatter like a potato (and people say my handwriting is like a potato!) , but who's judging?! Also, Rowley always forgets to put noses on his human characters, so you will be seeing a lot of that. Overall, it's an awesome book (as suggested in the title itself), it's hilarious and a must read book, just like The Diary of a Wimpy Kid.
Thank you Jeff Kinney for bringing back something related to the adventures of Greg (and Rowley). I'm sure all of us fans would have been pretty sad if you didn't start this new series. I'm anxiously looking forward to the next Rowley Jefferson book!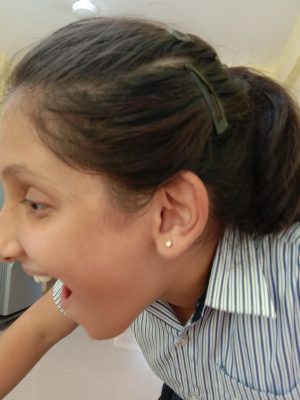 PS: My mom happened to catch my expression when she showed me the book release announcement as soon as I came back from school one day. Needless to say, she ordered it from Kids Book Café (FYI – I'm the in-house photography/videography intern and am paid in books 🙂 ).
If you liked my review and would like to buy this book from amazon (kbc affiliate link),
CLICK & BUY NOW!