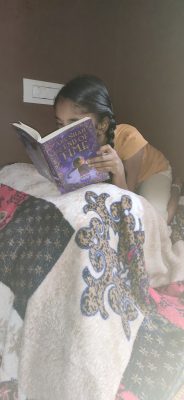 Book Title: Aru Shah and the End of Time
Author: Roshani Chokshi
Jacket Illustrator: Abigail L. Dela Cruz
Border Illustrator: Aimee Stewart
Publisher: Scholastic
Type: Paperback
Age Group: 8 – 12 years
We have all lied, haven't we? At least in our childhood when we thought there wouldn't be any significant consequences to it? I see you nod your head! We all have been there and Aru Shah, a middle-grade girl living in the Museum of Ancient Indian Art and Culture along with her mom, is no different.
While her peers from Augustus Day School had vacation homes in places like the Maldives or Provence, Aru had no place to go than to be in the museum.
Afraid of being bullied, Aru had this tendency to twist the truth (not lying, okay!) with her imaginative narratives of visiting exotic places and other stuff just to fit into her peer group.
Least did Aru know that three of her friends would turn up to her museum to catch her red-handed, recording their conversations and her twisted truths. Just to cover up for her twisted truths, she ends up lighting the cursed Lamp of Bharata, accidentally freeing an ancient demon and freezing her classmates and her mother in time.
Aru, the middle-grade school girl in Spider-Man pyjamas is now entrusted with the task of fixing things before the ancient God of Destruction is awoken. Does she get help? Yes, in the form of a wise-cracking pigeon and another girl of her age, her long-lost half-sister as allies, to fight mightier demons.
This Pandava Novel, a fiction stitched through the threads of faith & fantasy, takes you through adventures of Aru and her allies, leaving one with a high on Indian mythology.
What makes my 9-year-old daughter, M, take to the plot is the way Aru is portrayed as someone very much relatable. M was able to instantly empathize and relate with Aru, be it when she goes on with her twisted truths or promises herself not to say another lie after getting into trouble.
M also likes the idea of living in a museum. It catches her fancy. What more? It's Indian mythology that always amuses her and to have a fiction story weaved through it felt magical to her. She was able to recollect and savour all the backstories part of the plot given her familiarity with the Indian mythological stories.
Interestingly, as the plot unfolds, the introduction of Aru's half-sister (who is also an incarnation of Pandavas just like Aru) enthrals M to an extent that she now believes that there will soon come a day when her soul-friend (Meenu, an imaginary person) will also come to real.
Such is the story weaving skills of the author, Roshani Chokshi that it pulls you into the plot to make you part of the story and feel it all as real.
The book cover is enticing. The illustrator Abigail L.Dela Cruz has portrayed Aru as a simple next-door-girl who stands holding a diya and the look on her face, an expectation for something magical to happen, allures M into Aru's world. M was a little disappointed to find no sketches inside the book but the online information on Paramount Pictures having got the movie rights for this book made up for her disappointment.
Having heard M's take on the story, let's look into some critical aspects of the story from an adult's perspective.
The way fiction is presented with connecting stories from Mahabharatha is fascinating. For one thing, Mahabharatha (one of the greatest Indian epics) in itself is complex with nestling stories (unlike Ramayana, another Indian epic, that's straightforward and easily comprehended) and one needs a sharp memory to weave fiction out of it.
The author Roshani Chokshi's fascination and research on the epic are clearly visible in the way she seamlessly connects the stories from Mahabharatha in her plot blurring the lines between mythology and fiction.
The story is fast-paced and the author's witty words are sure to crack you up quite often along with the story. I just can't get over the part where the pigeon (Aru's ally) makes a mark on Google maps being the most confusing contraption of this century. And not to forget, the chapter where the sage (the hipster in the anthill!) converses only in rhymes and expects Aru and her allies too to do the same – a laughter riot, I would say.
There's a beautiful blend of emotions felt throughout the story – right from the start where the author makes us empathize with Aru on her twisted truths to the part where we find ourselves empathizing with the emotions of a long-abandoned palace, to an extent that we start missing our previous abode(s).
To take an epic that can make you feel dizzy with its numerous characters and nested stories, and write a captivating fiction out of it, is a herculean task. It takes guts to even think of attempting at it but Roshani has made it look all so easy with her creative flow. 
What I found as a minor imprecision is the mention of days in Sanskrit numerals where at one point it is mentioned the number six as saat. Well, technically, I guess, the author was trying to mean shat (as in Sanskrit) I guess, but it sounds as though she means the Hindi-wala saat– the number 7. Also, I found a mild ambiguity around the usage of the word raksha for a demon (a good kind in the plot) as raksha in Sanskrit would mean to protect while rakshasa would mean a demon. I would consider these as ambiguities that can be overlooked than call them flaws.
That said, this book makes for a cool take on fiction based on Indian mythology with the notable factor that it's part of the "Rick Riordan Presents", the #1 New York Times bestselling author, Rick Riordan's a small branch of the Disney- Hyperion Publishing family.
This book should be seen as a work of fiction rather than as a formal introduction to Indian mythology.
If you are looking to introduce your kid to Indian mythology on a serious note as a way/part to practice the Hindu religion, be warned, this is not the book. Rather, this book is a unique take on Indian mythology, something that will help the younger generation (and adults alike) look at it with more fondness imbibing a curiosity to know about the Hindu religion/culture with greater intent.
Pro Tip: If you are not familiar with Indian mythology, I would suggest that you take time to familiarize yourself with the glossary (I bet, it is as interesting and full of wit as the story itself) given at the end of the book and then kick start with the story.
Disclaimer: We got this book as part of #kbcReviewerSquad and we feel happy and privileged to be part of it as we are free to have our opinions and give an honest review of the book.
We are off to grab our next book in the series – Aru Shah and the Song of Death. What about you?
HAPPY READING!
If you enjoyed this review and wish to buy the book from Scholastic India (kbc affiliate link), type ARU SHAH in search after clicking this red button.
CLICK & BUY NOW!
Should you wish to buy this book from Amazon (kbc affiliate link), click here.