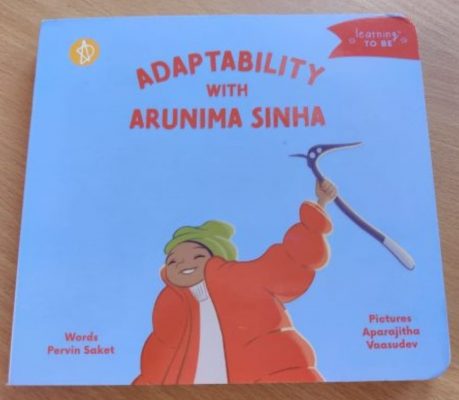 Book Title: Adaptability with Arunima Sinha, Learning to Be with Women in Sports series
Author: Pervin Saket
Illustrator: Aparajitha Vaasudev
Publisher: AdiDev Press Pvt Ltd
Type: Board book
Pages: 20
Recommended Age: 4-8 years
Arunima was born in Lucknow to a country serving parents…. She liked football and played Volleyball. She was a national level Volleyball player.
She wanted to serve our country too by joining the paramilitary forces. She was on her way to Delhi to give an examination for one of the paramilitary forces, when tragedy struck. She was pushed out of the moving train by thieves who were trying to snatch her bag. Another train going parallel ran over her leg, she lost her leg completely and was given a prosthetic. She also suffered several other injuries.
A national level volleyball player lost her leg, but she didn't sit and dwell in sadness. She got inspired by seeing Yuvaraj Singh who had successfully battled cancer and continued playing. She made up her mind to climb Mount Everest.
Then the rest is history. She started training under Bachendri Pal (the first Indian woman to climb Mount Everest), and in within two years after the accident she was all set to scale the peak. After 52 tiring yet adventurous days, she finally reached the summit on May 21, 2013. On her way back, she ran out of oxygen. But an another mountaineer who decided not to scale the peak that day, had thrown his extra oxygen cylinder which saved her life. She became the world's first female amputee to scale Mount Everest.
She didn't stop there. She went on to climb the highest peaks in 6 continents within 6 years after Mount Everest and became the world's first female amputee to do so… She has written a memoir 'Born Again on the Mountain: A Story of Losing Everything and Finding it Back'.
The verses and the illustrations in the book are simply magical and will steal your heart. I got goosebumps while reading the book. It teaches us even when everything goes dark and bad, if you adapt and have determination and courage, you can conquer the world as Arunima did.
The perfect book for children to learn about disabilities, accidents, mountain climbing and a few other things. This book opened up a conversation with my kid around "Padmashri" award and why oxygen cylinder is needed in the mountains.
Even for us adults, this book of Arunima's story might just give us a nudge of inspiration we need to pursue our dreams and even wipe away the smallest doubt we have about achieving it.
This book is part of a bookset called WOMEN IN SPORTS. You can read reviews of other books in the WOMEN IN SCIENCE series here:
Commitment With Bibha Chowdhuri (by Arundhati)
Passion with Aditi Pant (by Punidha)
Courage with Anandibai Joshee (by Kanishka)
If you enjoyed this review and wish to buy this book, you may buy the bookset from Amazon (kbc affiliate link),
CLICK & BUY NOW!
Disclaimer: Arul is part of the #kbcReviewerSquad and received this book as a review copy from the publisher.