Title: A Birthday Present For Aaji
Author: Parinita Shetty
Illustrator: Aindri C.
Publisher: Duckbill Books, Penguin Random House India
Type: Paperback
Pages: 40
Age group: 5 – 8 years
I am a big fan of Duckbill Books. These books have been taking us to Indian cities and villages to introduce common people living there. Both my children refuse to believe that it is a work of fiction.
Parinita Shetty has smartly introduced professionals from a small village in Maharashtra in this book. We wouldn't even realize it if we didn't try to answer Hawaldar Hook's questions at the end of the book. I must admire the illustrator to introduce real people to the kids, especially the comfort that everyone's clothes and footwear display. We could also notice an allergic person with mask.
The story goes around Jyoti and her grandmother. Jyoti is finding it difficult to come up with a perfect birthday present for her Aaji so she takes opinion of people Aaji knows. Although Jyoti is the mastermind to perfectly combine everyone's idea, this story is about harmony and teamwork. The story signifies that it is possible to have a fabulous finish even if you start confused. All it requires is someone who doesn't give up.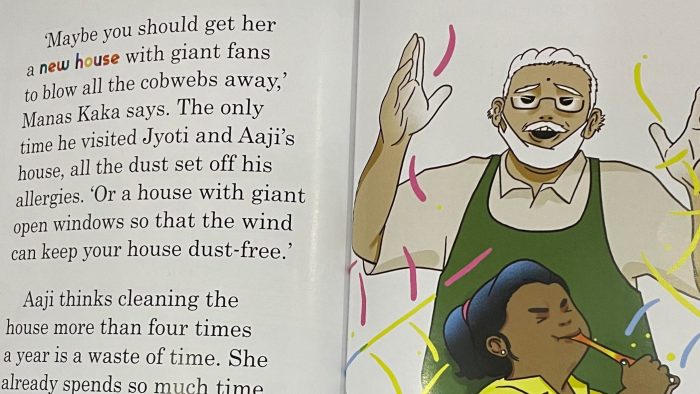 My daughter was delighted by the way the ideas are written in highlighted text and I was amused by the fact that everyone shares an idea based on their preferences.
In fact, my 8 year old thinks Jyoti should gift a comfortable bean bag and my 4 year old suggests a party to surprise her and receive lots of love in return.
Despite the fact that Aaji is not around as late as her birthday because Jyoti is secretly collecting ideas, it is Aaji who stuns us throughout the book. An astonishment that keeps building up page by page. In my daughter's words,
"If I had an Aaji like her then I would become the VIP of the class."
Another fact that I could bring up to my kids was the happy faces of all the grown ups. Sometimes we believe it is money that brings that content look but NO! It is the profession they love, it is the people they interact with and it is what all of us should yearn for!
'A Birthday Present For Aaji' is a book to discover sharing, planning, teamwork and a realistic happily ever after.
There are other hook books published by Duckbill which are just as funny and engaging as this book is. You can read Amardeep's review of another hook book, KITTEN TROUBLE here.
If you enjoyed this review and wish to buy the book from Amazon (kbc affiliate link),
CLICK & BUY NOW!