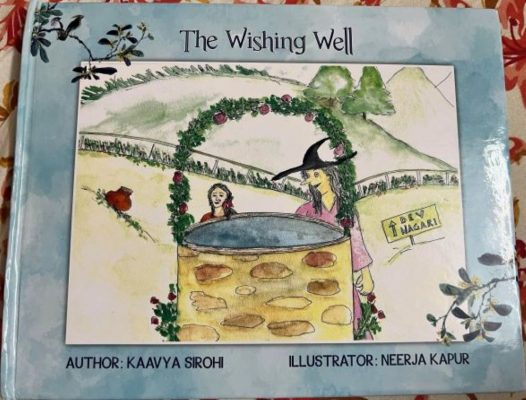 Title: The Wishing Well
Author: Kaavya Sirohi
Illustrator: Neerja Kapur
Publisher: Rapidex Advertising
Type: Hardcover
Age group: 3 – 6 years
I am truly delighted to review, The Wishing Well by a fantabulous budding author, Kaavya Sirohi. This beautiful story has amazing illustrations by Neerja Kapur, who has done fantastic work bringing imagination to life.
This story takes me back to my grandmother's pitara of stories about doing good deeds, how important it is to be a good human, how one should always be thankful to others and many many more.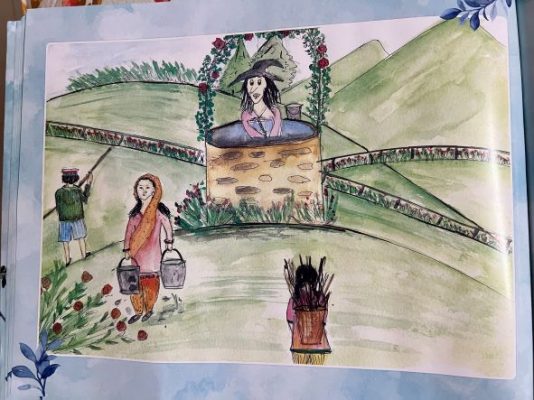 The plot: The story revolves around a village, Dev Nagari, where lives a sweet little girl, Veena who is always worried about everyone's well being and loves every creature. The villagers believe that prosperity and good fortune persists in their village because of a well: The Wishing Well. They believe in the long followed tradition that each bucket of water they take out from that well should be repaid to mother earth by performing a good deed.
Later, a witch decides to settle in the village which leaves everyone scared but Veena, who welcomes the witch with all her heart. Soon the villagers apprise the witch about the tradition of performing a good deed for every bucket of water that she will use from the well.
The witch totally ignores it and starts misbehaving with the villagers. The story doesn't end here but begins as to how the witch gets saved. It teaches us one of the most important lessons: to be selfless, in whatever we do.
Our learning: What my soon to be 5 liked the most is that we should do what is right, no matter if we are the only ones doing it. We should always help others when in need.
She said after co-reading the story, you know mama you are very right, doing good should be a habit. One should be good even when no one is watching.
What more can a parent ask for when the child starts differentiating between what she must follow and what to unfollow.
I am still amused by the work of an author who is just 6 years old. Isn't that commendable?!
If you want your child to imbibe such qualities, which I am sure you definitely want. Please get this book and thank our little author, Kaavya for the good that she has done by writing such a beautiful and meaningful story.
PS: We love the handwritten note by the author and we wish her all the very best!
If you liked this review and wish to buy the book, you can directly order it from the author's mom, kbc member Vandana Bakshi,
on watsapp 9871747286.
Payment mode via Paytm or
UPIPaytm No:- 9871747286
UPI ID:- 9871747286@paytm