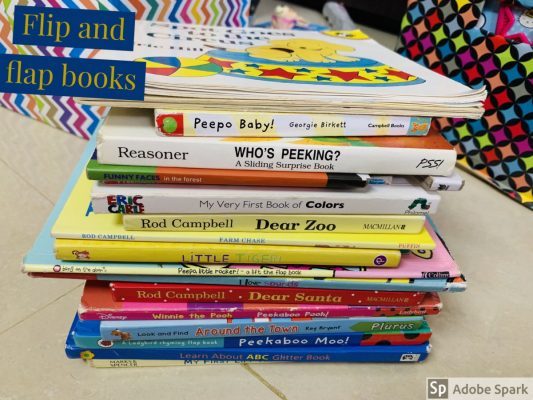 Flip & Flap books improve pincer grasp!
After Touch and Feel Board Books (my entire recommended list is posted here) I introduced baby Amaira to flip and flap books to improve her pincer grasps, paperbacks to introduce the feeling of love towards books and not tear them, popup books as she loves surprises, animals books (she loves looking at dogs and lions, so I have one book just for dogs and one just for lions & tigers), fruits, vegetables and other educational books.
Here is the list of flip & flap books we have:
Peepo Baby by Georgia Birkett
A Sliding Surprise Book : Who's Peeking?
Funny Faces: In The Forest
My Very First Book of Colors by Eric Carle
Rod Campbell : Dear Zoo
Rod Campbell: Farm Chase
Little Tiger
Peepo Little Rocker: Baby Flap Book
I Love Sounds
Rod Campbell: Dear Santa!
Look And Find: Around The Town
Learn About A B C Glitter Book
You can check out my list of Sound Books for Toddlers and list of Educational & Social books for Toddlers as well.
[Note from Team Kids Book Café: For your convenience, affiliate links (MARKED IN PINK) to some of the books have been added to enable you to buy the books from AMAZON, should you wish to! A very small amount of money comes to kidsbookcafe.com when you purchase a book via the amazon affiliate link provided (at no extra cost to you!). Do let us know if you'd like to buy some other children's books that are not listed here yet, by writing to asha@kidsbookcafe.com.]