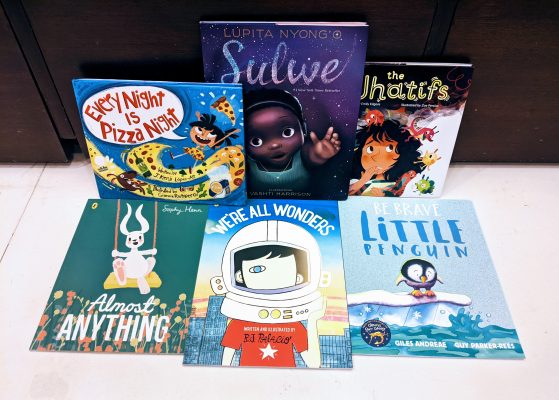 A couple of months ago, I shared 10 books with heart. Here are some more!
Our reading journey has always been supported by a melting pot of different kinds of books. But the stories that we have seen work the magic that only books can, are the ones where the underlying thread is about human emotions. Little children deal with such big big feelings, and we often get trapped in naming those feelings. What has worked for us, though, is not naming them, but seeing them imbibed in characters, and learning how to nurture or manage them through the story arc. Here are some books my 4.8 year old loves!
Written by Emily Kilgore
Illustrated by Zoe Persico
Even little bodies have worries. And if your little one is anything like my biggie, you face a million "but what if"s. In this story Cora is plagued by the scariest of what ifs, about all the bad things that could happen. Until she meets Stella. Stella turns the scary what ifs into happy what ifs. Like what if I get cake for dinner today! We love that this book gives our little ones an actual way to transform their thinking, instead of simply telling them worry is pointless.
Written by Lupita Nyongo
Illustrated by Vashti Harrison
This magnificent book addresses a perspective that is unfortunately embedded into our cultural consciousness. Though the story is about an African American girl, Sulwe, it is so easily relatable within an Indian context. Sulwe is dark. Darker than her family, and darker than most of her friends. But why should darkness mean ugliness? And how important is darkness? As her mother and a magical shooting star explain the importance of being happy with how you look and the beauty inside you, Sulwe finds joy in herself. We can only see light in the dark, after all!
Written by J. Kenji Lopez-Alt
Illustrated by Gianni Ruggiero
When my husband (a total foodie) ordered this book, I was sceptical without even knowing what it was. Food does that to you. As often as it brings pictures of love and togetherness, it also brings to mind stereotypes. Pizza is yum. Pizza is junk food. But for Pipo, pizza is home and pizza is the best! As she tries to make everyone believe it too, she discovers that families are tied together by food that belongs to their culture, and often that is what is best to them. A beautiful read about the love of food, family, and acceptance of diversity. Oh and for those kids that love experimenting with food, cooking, and even those fussy eaters, this is a must have!
Written by Giles Andreae
Illustrated by Guy Parker-Rees
I have a cautious little soul in my older one, and he is often plagued by the 'I can't do this' and the 'I can't do this well enough' feeling. Be Brave Little Penguin is how a little, slightly bullied, penguin trusts his mama and takes a leap of faith to try something that scares him. And then discovers just all that he can do! I love that this book shows support from a parent. And while it made me sad that the words used for name-calling in the story weren't make believe but real for my boy, it helped him connect to the story and believe it was true! He could really do anything!
Written and Illustrated by Sophy Henn
Another one for the wary child, Almost Anything is special. It's magical. And I've seen its magic at work. A little bunny is sure he can't do anything at all. He simply can't. Until a wise old bear gives him a magic hat that lets him do absolutely anything! Suddenly, bunny is in a whole new world of hope and triumph. But what happens when he loses the hat? This one's about finding the magic in you, and trying, and trying again, till you can do absolutely anything!
Written and Illustrated by R. J. Palacio
We're All Wonders is a heartfelt story about a little boy that is different. Wait, he isn't different. He only looks a little different. But his feelings and what he faces are honest truths that will make your heart break and make your little one say "Mumma, why was everyone so mean?"
A great book for building empathy and accepting differences, be it your own or someone else's.
Are you reading any books that warm your heart or make you think? Do share your list as we're always on the lookout for books with heart!
[Note from Team Kids Book Café: For your convenience, affiliate links (MARKED IN PINK) to some of the book titles & images have been added to enable you to buy the books from AMAZON, should you wish to! A very small amount of money comes to kidsbookcafe.com when you purchase a book via the amazon affiliate link provided (at absolutely no extra cost to you!). Do let us know if you need information about other children's books by writing to asha@kidsbookcafe.com.]