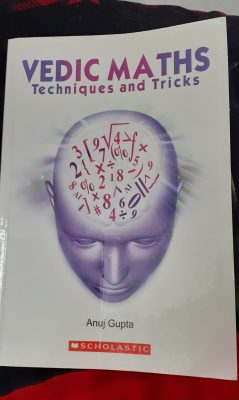 Title: Vedic Maths – Techniques and Tricks
Author: Anuj Gupta
Publisher: Scholastic India Pvt. Ltd
Type: Paperback
Recommended Age: 10+ years
This is my first review post on KBC. Usually I post my daughter, Prisha's reviews.
This book is for those who want to learn Maths in an ancient way but with faster techniques. What I like the most is the Sanskrit names for arithmetic operations mentioned in the book.
Summary of the book
The addition operation has been explained with proper examples in three methods: Puranapuranabhyam, Sankalana-Vyavkalanabhyam, and Ekadhikena Purvena. All of the methods have been explained stepwise with some tricks.
Similarly, subtraction is given in three methods: Vyavakalanabhyam, Nikhilam Navatashcaraman Dashtah, and Vinculum.
Multiplication is provided with eight different solving methods with easy steps and examples. These different methods have different advantages over one another.
The division is given in three different methods: Nikhilam (cute name), Transpose and Apply, and the third one is dividing any number with any number.
The bonus topic is how to find out the square root of any number!
There are a lot many problems that have been given for more and more practice.
Final Verdict
Go for this book if your child is really interested in Maths and wants to try different, faster methods in day to day arithmetic operations.
If you liked this review and wish to buy the book from Scholastic India (kbc affiliate link), type Vedic Maths in search after clicking this red button.
CLICK & BUY NOW!
Should you wish to buy this book from Amazon (kbc affiliate link), click here.