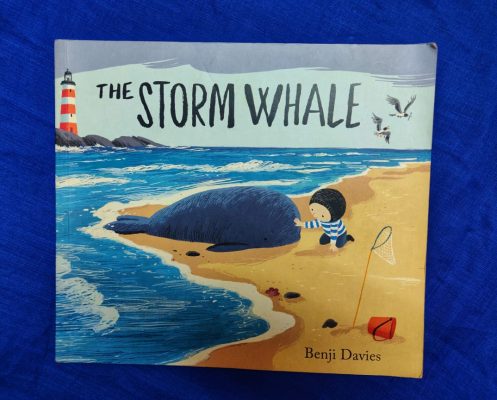 Title : The Storm Whale
Author : Benji Davies
Book Type : Paperback
Age Group : 2 – 5 Years
Toddlers are yet to understand what friendship is. By the age of 2, they will love playing with other children and will eagerly wait to see their friends. These first friendships are always special to us and our children. This book is all about friendship, loneliness, kindness and taking responsibility.
The Storm Whale, written and illustrated by Benji Davies is the winner of the 2014 inaugural Oscar's First Book Prize in association with the Evening Standard.
This is a story of a little boy named Noi who lives with his dad and 6 cats by the sea. Everyday his dad goes to work on his fishing boat and Noi is left all alone with the cats. But one day after a great storm, Noi just walks along the shore when he finds a baby whale washed ashore. Noi was aware that whales should not be out of water so immediately takes the whale in his pulley to his house and places him in the bath tub.
Noi was very happy that he found a new friend and he starts talking gleefully and whale listens. Noi takes good care of the whale until his dad finds out. What happens when Noi's dad finds out about Noi's new friend, baby whale in the bath?
You'll have to read the book to know the same. Find out how the arrival of the baby whale changes Noi's Life.
What we loved about the book was the innocence of Noi and the compassion and love he had towards animals.
The illustrations are really beautiful with the colour of the sea and surroundings. The story is short and sweet, perfect for younger children. It teaches children about the loneliness of Noi, the friendship between Noi and the baby whale, the kindness of Noi and how Noi's dad, who is a single parent here, juggles work and home.
My little one who is 2.5 years old loves this story and always asks us to take him to the ocean to see his favourite animal, the whale. We enjoy reading this book and he is now a fan of Noi and his bicycle. We even play a fun game of finding the cats and gulls which are almost there on every page.
Wait, there is a sequel to this book named The Storm Whale in Winter! We are looking forward to grab that book and read it soon.
Other amazing books by Benji Davies can be found here.
If you like this review and wish to order this lovely book from Amazon (kbc affiliate link),
CLICK & BUY NOW!