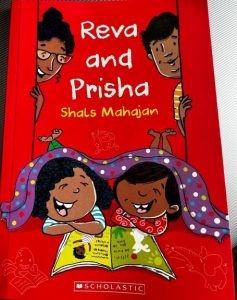 Title: Reva And Prisha
Author: Shals Mahajan
Illustrator: Lavanya Karthik
Publisher: Scholastic India
Type: Paperback
Age group: 6 – 8 Years
I am posting this review on behalf of my 7.8 years old son, Sharav. I am super happy that now he has taken up writing reviews*.
*conditions apply – he will write only for funny books.
Firstly, I loved the cover page of the book. It made me slip inside a blanket and read, just like Reva and Prisha. I noticed that the front and back cover pages have pictures from the different chapters of the book.
Reva and Prisha is a hilarious book about the unconventional Sahil family with two mommies (Amma & Momma) and twins Reva and Prisha. I found the characters of the book very lovable, funny and relatable.
It has a collection of short stories that talk about everything from dreams to morning walk to school stories to food. I loved Reva and Prisha because they are so much like me – they get weird dreams, collect flowers on their morning walk, their dinner table conversations are fun, and they ask a thousand questions and keep bothering Amma & Momma (just like I do).
There are a few things that I particularly loved. For instance – in the chapter Octopus Children, Amma visits the school and is given a Bean bag – the fart monster to sit (it cracked me up totally!). Also, if Amma found washing thirty hands tiring, then if she had gone to octopus school and washed the hands of fifteen octopus children? Imagine!
I loved the idea of saying kaddu-nation whenever anger takes over. I am surely going to adopt it.
And there is something new that I had never heard of; a family can be both Hindu and Muslim. I thought we could be either Hindu or Muslim.
And, how could I miss the most adorable part – THE FAMILY SONG.
The book has humour, kindness, family love and lots of silliness that will knock you off the chair. If you think about the most relatable funny family book ever, Reva and Prisha is the book. I loved reading and re-reading it.
Wait! Do read what Mommy has to say about the book:
The thing that impressed me was how the author touched atypical topics with subtlety, whether the two mothers family dynamics or a difference in religion. It offers a unique, unadulterated view of the world through a child's eyes.
It is delightful to read how the two mothers parent the twins; they are liberal, loving and offer them space to explore and learn. This book wins our hearts with its humour, love, and gentleness. The warmth and love of the family can mend anything. The illustrations by Lavanya Karthik add more vividness to the story.
Eager to join Reva & Prisha in their madness – do not hold back, bring the family home right away.
Happy Reading!
If you enjoyed this review and wish to buy the book from Scholastic India (kbc affiliate link), type Reva And Prisha in the search bar after clicking this red button.
CLICK & BUY NOW!
Should you wish to buy this book from Amazon (kbc affiliate link), kindly click here.