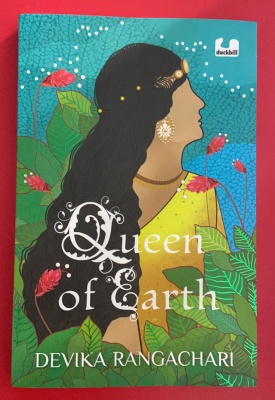 Title: Queen of Earth
Author: Devika Rangachari
Type: Paperback
Age Group: 12+ years
After the brilliant tale of Didda in 'Queen of Ice', author and historian Devika Rangachari brings us the tale of Prithvimahadevi, the daughter of the powerful Somavamshi king of Kosala. Never heard of her? That is why her story needs to be told.
A stunning cover beckons you inside a life that is circumscribed by the rules that govern the existence of women of her royal family. Growing up in awe of her father the great Janmejaya of Kalinga, seeing her brother trying relentlessly to be a reflection of his father…the young girl knows she has ambitions and hopes that can never be fulfilled in her times. Marriage to another powerful king seems to be her only allowed dream.Those dreams too are crushed, as at the last minute, she is used again, bargained like a treasured object, married to her father's enemy, the Bhaumakara ruler, Shubhakaradeva.
As she enters into this new world, she finds many new lessons – austere lives devoid of show and excess, strange gods, unexpected privileges of freedom and friendship that she had not known. Then suddenly, in twist of fate, she gets her chance, to fulfill her dreams of becoming a great queen — to truly use the political sagacity she had been silently garnering at her father's court. Her father's confidence and acknowledgement of her skills, her equations with her sibling, friendship, compassion, tough decisions, betrayals and sacrifice all are put to test, as this queen adroitly and kindly rises to this challenge. Do not miss this fascinating tale, brilliantly reconstructed from only itty bitty fragments of what was available of this interesting, lost Queen.
First published on my blog here.
If you enjoyed this review and would like to order this book from Amazon (kbc affiliate link),
CLICK & BUY NOW!