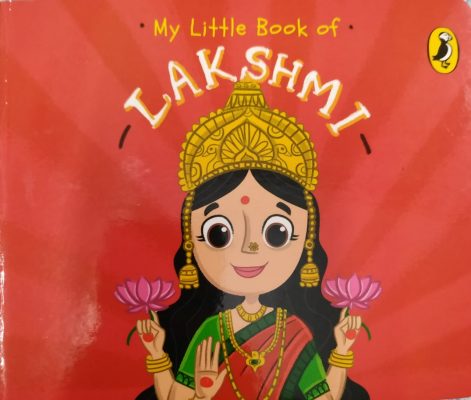 Title: My Little Book of Lakshmi
Author: Ashwitha Jayakumar
Illustrator: Rachna Raghuram
Publisher: Puffin Books, Penguin Random House India
Age Group: 2.5 – 5 Years
This book is about Lakshmi – The Goddess of wealth & prosperity and the traditions of Lakshmi Puja.
Indian mythology is a part of Indian culture. It's richness makes it unique in the world. Today, in a world where our morals and values are challenged in every phase of our lives, it is very important to introduce mythological books to our children at an early age. Mythological books creates an instant excitement and paves the way for imagination. As an early reader there can't be any better book apart from a book on Goddess Lakshmi – Goddess of wealth and prosperity.
This beautiful board book not only explains the rituals of Lakshmi Puja in simple words but it's colourful illustrations will also impress the little ones. What kind of tasty treats are prepared on this auspicious day, how does Goddess Lakshmi find her way, why do people pray to her, why do people light diyas? All questions are answered in such a way that even a 3 year old can understand and know the importance of Lakshmi Puja.
It's not over there, a fun activity to remind children about the essential commodities required in Lakshmi Puja will never allow a child to forget the essential offerings to the divine Goddess.
"What a wonderful day I've had with you here, now don't be sad, I'll be back next year!"
Diwali being one of the biggest festivals of India and Lakshmi Puja being a part of it, this definitely makes it a "must have" book for every Indian household. After reading this book, my daughter definitely believes that Ma Lakshmi is watching over us every second…She will always be with us –
"Lakshmi blesses everyone."
We loved the book, my over-particular daughter who is usually not captivated with all books was highly impressed with the beautiful illustrations and activity. She is eagerly waiting for Lakshmi Puja so that she can draw the Rangoli the way it's demonstrated in the book. She opens the book and keeps drawing Goddess Lakshmi, her owl and objects needed in the Puja, she believes "Lakshmi has found her way".
There are quite a few more books in this MY LITTLE BOOK OF series including My Little Book of Krishna , My Little Book of Ganesha.
If you enjoyed this review and wish to buy the book from Amazon (kbc affiliate link),
CLICK & BUY NOW!