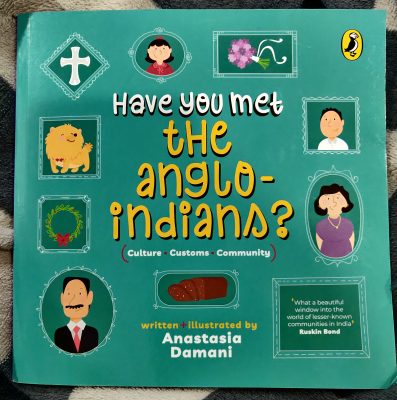 Title: Have You Met The Anglo-Indians?
Written and Illustrated by: Anastasia Damani
Type: Paperback
Age Group: 6-8 years
Published by: Penguin Random House India PVT. Ltd.
I am posting this review on behalf of my family. We won this beautiful book in the contest #kbcHaveYouMetBoogie, and I am so happy to announce that "YES, WE MET THE ANGLO INDIANS!"
It took us three days to complete the book properly as the activities given in the book are amazing and we enjoyed every single page of it. Our journey started with Lovedale family. My 3 yr old son came to know about the "Union Jack" as the book started with 2 flags together, we listed down the "Indo-Gothic" buildings, we practiced the "Hesitation Step", we cooked "Kulkuls", we did the "Hand Jive", We celebrated "Christmas", we baked a "Cake", We made a "Goodness Tree", we met some "Iconic Anglo Indians", and we, ever since that day, started thanking each other – "Thank you so much, Magarmachh."
It was an amazing experience to read and know about the food, festivals and lingo of Anglo Indians. The illustrations are beautiful and we spent the maximum amount of time with this book. This book is an absolute must read for everyone who wants to know about the lives of the lesser-known communities in India.
Also be sure to read the review of the other book in this series, HAVE YOU MET THE PARSIS?
If you liked this review and wish to order the book from Amazon (kbc affiliate link),
CLICK & BUY NOW!