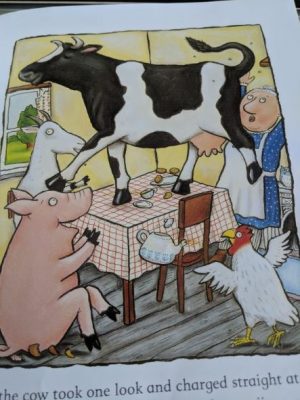 Title: A Squash and a Squeeze
Author: Julia Donaldson
Soft Book
Ages 3- 6 years
Are you tired of your child always asking for more? More toys, more play time? I wanted to teach my boy the lesson of gratitude and appreciation.
This book helped me do that in a fun and interesting way. The pictures bring the story alive. My son laughed hard when he saw the clumsy hen. naughty goat. hungry pig and the dancing cow. "Why are they all making a mess in her house?" He asked. I saved that answer till the end of the story. The wise man's advice works and even my son realized that the old lady should appreciate the space she has in her house.
To make the book reading a fun activity, me and my boy made animal sounds every time the book introduced an animal. Sometimes we even take turns too.
My boy and I have read this book many times together. The author is brilliant in using rhyme and rhythm so children pay attention and understand easily. Julia is also recommended by my boy's school teacher.
This story can be read to children of all ages. But, children younger than 3 years, may not understand the lesson of the story. It would be better to explain to your child after reading. The phrase 'A Squash and a Squeeze' is repeatedly used by the old lady in the story to describe her house. In case you haven't heard of it, it means tiny space.
After reading: Ensure your child has understood the moral lesson of the story. Ask "What did we learn?" "Why did the wise man tell the old lady to keep her animals in her house?"Apply the moral lesson of appreciation and gratitude in your life. Ask your child "What are you thankful for?" "Do you have a lot of good toys?"
Happy reading. Hope you enjoy the book as much as we did.
Other books we both have purchased and read to our child are The Gruffalo (read review here), The Smartest Giant, The Room on the Broom (read review here) and The Snail and the Whale.
If you liked this review and would like to buy this book from Amazon,
CLICK & BUY NOW!