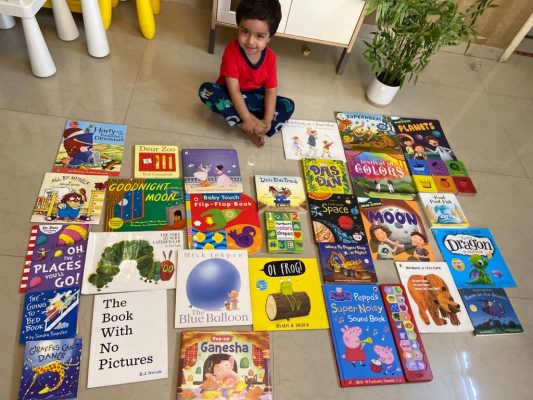 This is our entry to #kbcBookBingoJr!
A Dino Book – "Harry and the Bucketful of Dinosaurs" by Ian Whybrow and Adrian Reynolds (Reading Age: 2-6 years)
If your child loves Dinosaurs, this would be a much-loved book. An adorable story of how Harry finds some dinosaur toys in the attic and nurtures them. A story of his friendship and love he has for his dinosaurs and that his dinosaurs have for him in return. Children love to memorize names of dinosaurs and this book will delight them as Harry promptly lists out the names of each of his dinosaurs accurately everytime – whether it be Tyrannosaurus or Triceratops. A lovely and much recommended book for the little dino-lovers.
2. A Book on Good Habits – "All by Myself" by Mercer Mayer (Reading Age: 2-7 years)
Kids love to copy everything they see. Mercer Mayer has taken that fact and translated it into a wonderful learning opportunity for the kids. Little Critter is capable of doing a lot of things on his own – be it dressing himself, feeding and taking care of himself and his little sibling, doing his chores and activities – albeit everything in his own special unique ways. This classic book stays with your kids and helps them garner independence in a very positive way.
3 A Dr. Seuss Book – "Oh the Places you'll go!" by Dr. Seuss (Reading Age: All ages)
"Wherever you fly, you'll be the best. Wherever you go, you will top all the rest. Except when you don't. Because, sometimes, you won't."
If there was only one Dr. Seuss book that you could buy (although that would be a very unfair condition), this would be the book to pick! It tells some of the must know facts of life to the child, that you would surely want them to know. Facts about success and failure, ambition and the wondrous opportunities that awaits them – told in a truly Dr. Seuss' fashion! It not only fills the child with self-confidence and charges them up for their bright future, it also gives them tools to deal with failure and how to overcome it. Pearls of wisdom packed in a little chameleon of this whimsical book, filled with funny out of the world characters and places. A must have book from a must read author for all ages and stages!
4. A Boynton Board Book – "The Going to Bed Book" by Sandra Boynton (Reading Age: 0-3 years)
Setting a bedtime routine for your child might be tough but maintaining it is tougher with a restless toddler filled with energy. Sandra Boynton with her silly bunch of animals getting ready for bed are here to help. This book makes bedtime routine seem like a lot of fun. It is short and simple to understand. The text rhymes and illustrations are quite funny. The ending is sweet, especially if you are rocking your baby to bed. In the world of emotionally heavy bedtime stories, this simple and fun book is refreshingly cute and beloved by the relentless sleepy little ones.
5. A Book that teaches you a lesson – "Giraffes Can't Dance" by Giles Andreae and Guy Parker-Rees (Reading age: 1 to 6 years)
In today's time when bullying is common in schools, this heartwarming book beautifully conveys the essential life lesson that each one of us is different and unique. Awkward and clumsy Gerald Giraffe is laughed at for being 'weird' when he attempts to take part in the Jungle Dance competition. He follows his heart nonetheless, dancing to the music that he loved! Not only does he enjoy himself, he ends up awe-inspiring everyone with his unique dance moves which stand out. This beautiful book has a place in every child's library, who cannot help themselves from cheering on Gerald happily towards the end with the rest of the jungle crowd.
6. A Lift-the-Flap book – "Dear Zoo" by Rod Campbell (Reading age: 0 to 3 years)
Dear Zoo is a delightful lift-the-flap book by Rod Campbell. When you want a pet, Dear Zoo promptly sends you one – but the question is – do you want it? Big catchy pictures under the flaps makes this an exciting book for both reading aloud to infants as well as young toddlers. It gives the child an insight into the wild animals and their various characteristics, be it a big elephant or a fierce lion. Children love lifting the sturdy little flaps (that hold up well when pulled by little fingers) and discovering the next exciting animal sent to them by Dear Zoo!
7. A Bedtime Story – "Goodnight Moon" by Margaret Wise Brown and Clement Hurd (Reading age: 0 to 3 years)
Goodnight Moon is a classic bedtime book and this book is classic for a reason, adored by children since decades. It has a surprisingly calming effect on the sleepy little ones. This book revolves around a great green room and you get to say goodnight to every little thing in the room one by one. You bid goodnight until the lights are off and the only thing you can see are the stars outside. Not only does it add to a child's vocabulary, children love the rhythm and keep going back to it for more.
8. A Book by your favourite illustrator – "The Very Hungry Caterpillar" by Eric Carle (Reading age: 0 to 3 years)
Eric Carle's books can be recognized from a distance by a mere glance at the beautiful pictures that adorn its pages. Children love following the exciting journey of the little hungry caterpillar, which eats its way through the pages – quite literally. While prodding the little cut outs of the food it eats, children seamlessly learn about the life cycle of a caterpillar, name of different fruits, counting numbers, days of the week and healthy-unhealthy food. The ending of the book is breathtakingly beautiful, when the caterpillar transforms into a beautiful butterfly! This book stands out with the breadth of information it provides while journeying though the enchantingly gorgeous illustrations.
9. A book with a quirky cover – "The Book with No Pictures" by B J Novak (Reading age: 0 to 3 years)
The cover intrigues and then pulls you in for one hilarious ride! There is only one rule – you have to say everything out loud – no, you cannot skip any word even if it doesn't make sense – that's right bloorp!!! Wait I didn't just say that did I? – yes I did because the rule says I have to!
Do pick this unusual, interactive, one of a kind book, which is an instantaneous hit with kids! The Book with No Pictures by BJ Novak might have no pictures but it is anything but boring!
10. A fairytale – "The Usborne Book of Fairy Tales" by Stephen Cartwright and Heather Amery (Reading age: 2 to 6 years)
Fairy tales have remained an integral part of childhood. If you are looking for one book to introduce age old fairytales to your child – Usborne Book of Fairy Tales in an easy pick. It has six tales – Cinderella, Sleeping Beauty, Red Riding Hood, Three Little Pigs, The Story of Rumpelstiltskin and Goldilocks and the Three Bears. The book has big illustrations on all pages and uses simple language. They also have added a yellow duck, which children love to spot on each page!
11. A touch and feel book – "Baby Touch Flip-Flap Board Book", Ladybird Baby Touch series (Reading age: 0 to 2 years)
If only words could do justice to this lovely multi-sensory book. It starts as a perfect tummy-time companion with its bright colours, which attract infants. Its pages are filled with several kinds of textures, which provide babies with the essential multi-sensory experience. When your infant turns into a toddler this book grows alongside them and teaches them shapes, patterns, counting, concept of big-small, little words – all the while keeping then entranced. Don't be surprised if you find yourself buying a second copy to replace the first worn out one because your baby just doesn't get tired of it. A great starter book for every child, to make them fall in love with and hooked onto books forever!
12. A book that was gifted to you – "The Blue Balloon" by Mick Inkpen (Reading age: 2 to 6 years)
This warm and lovable book, authored by the award-winning writer and illustrator Mick Inkpen, introduces us to one of his most famous characters – Kipper. In this book, a boy and his dog Kipper come across a soggy old blue balloon but as they inflate it, they learn that it isn't any ordinary balloon. The balloon delights children with every page they turn. The book has foldable pull out pages, which add to the magic. A book with lovely illustrations and a simple story, which warms your heart, something, which the kids will surely cherish.
There are other books in the Kipper series by Mick Inkpen.
13. A book on mythology – "Ganesha" (Pop-up Indian Mythology) by Amrita Verma (Reading age: 2 to 8 years)
Mythological books have their own place in children's library. They make a riveting read for children as they learn about their culture at the same time. This pop-up book written by Amrita Verma and published by Om Books tells the tale of how lord Ganesha came to have the head of an elephant. The story is concise and simply written for early readers with bright colourful pictures, which pop out. The series also has other mythological books such as Krishna, Hanuman, Shiva, Durga, Lakshmi and others.
14. A rhyming book – "Little Blue Truck" by Alice Schertle (Reading age: 1 to 3 years)
"…a lot depends on a helping hand from a few good friends!"
This catchy rhyming board book tells a tale of a friendly little Blue Truck, while embedding the important lessons on friendship, teamwork, being kind and helpful. How a little friendly truck ends up helping a big dump truck with the help of his little animal friends. The colorful vehicles and various animal sounds keep children entertained throughout the story. This book truly makes for a great read.
15. A book on shapes/colours/numbers – "Priddy Books: Numbers Colours Shapes" by Roger Priddy (Reading age: 1 to 3 years)
If you are looking for the first learning book for your child, then Priddy Baby books are it. This book not only introduces a child to the basic shapes, colours and numbers uptil ten, it also introduces them to other concepts such as opposites, time, and environment. As actual pictures are used in the book, it is Montessori aligned as well. This book with big clear and simple pictures, help children grasp these basic concepts easily. The small padded board book is ideal for handling by little hands.
16. A yellow coloured book – "Oi Frog!" by Kes Gray and Jim Field (Reading age: 2 to 6 years)
This hilarious and whacky book starts with a cat admonishing a meek frog for not sitting on a log. When he protests about the splinters in his buttocks, she begins a sermon on where each animals is supposed to sit. The comical characters and clever rhyming makes the book funny and brilliant. The illustrations are vibrant and colours vivid. It teaches children about rhymes, phonics and repetitions. A really funny and engaging book for children, who never get tired of shouting out the next amusing rhyming word about to come up!
17. A funny book – "We're Going on a Bear Hunt" by Helen Oxenbury and Michael Rosen (Reading age: 2 to 5 years)
A family of five are pumped and ready to brave storms and wade forests to hunt a bear. They take us along on their long journey across several landscapes and obstacles as they stomp through the mud (squelch squerch!) and wade through a river (splash splosh!). They are not scared! But what happens when they come face to face with an actual bear! Don't let the deceptive title keep you away from this hilarious classic! You will end up laughing on the floor at its supremely unexpectedly comical ending. A light and fun book, which makes great use of repetition and fun sounds throughout, for the young readers.
18. A book by Indian author – "Das Din" by Pridhee and Alicia Souza (Hindi Edition) (Reading age: 1 to 4 years)
Why to teach your little ones Hindi numbers the boring old fashioned way, when Pridhee is here with her one of a kind beautifully illustrated and interactive board books. Children can lift the flaps and also pull on the tabs, which makes the book very exciting for them. She tells an easy to follow, rhyming story of a lion prince and as he recovers from his ailment with each passing day, while incorporating numbers on each page. The text is in Hindi as well as has English transliteration (also published in Tamil version). The big and child friendly font is sure to be a hit with early readers.
19. An informative book – "Usborne – Look Inside Space" by Rob Lloyd Jones (Reading age: 2+ years)
Usborne Look Inside Space is a children's science book filled with informative illustration and 70 lift-the-flaps. Every page introduces child to a different concept – moon landing, sun, planets, solar system and rocket. It is an incredibly versatile book. While younger toddlers would definitely find it an interesting introduction to space, with the bright illustrations and lift the flap content, elder children would enrich their minds with lot of interesting information on space, which this book provides.
20. A book on transport/ vehicles -– "Where Do Diggers Sleep at Night?" by Brianna Caplan Sayres and Christian Slade (Reading age: 2 to 5 years)
An adorable cozy bedtime book, especially if your little one is fascinated by transport and construction vehicles. This book takes us into a world of imagination of vehicle's bedtime, as one by one each vehicle says goodnight to their little ones and makes them sleep. Would a garbage truck nudge his little one for a bath before bedtime? Would the snow plows tell her kids to rest, for they can play more in the snow the next day again? Or would the trucks parked under the starry sky tell bedtime stories to their sleepy little ones, who ask for one more story, perhaps one more hug? This bedtime book makes the bedtime routine so much more lovable cozy and warm for both the parents and child.
There is an entire WHERE DO DIGGERS series as well.
21. A sound book – "Peppa Pig: Peppa's Super Noisy Sound Book" (Reading age: 2 to 5 years)
If your child is a Peppa Pig fan, he/she will surely love this noisy book. Children get to hear the stories of Peppa and while reading by themselves they can press the sound button, which goes along with it. A book becomes so much more exciting and enjoyable when it tickles not one, but more senses. It brings them closer to the experience of watching Peppa Pig on television, without the actual screen-time. A win-win for both parent and the child.
22. A one word title book – "Superworm" by Julia Donaldson and Axel Scheffler (Reading age: 2 to 7 years)
Superworm is super long, Superworm is super strong!
He spends his days helping everyone and is a hero to all his garden friends. But what happens when he falls into a trap that he cannot get out of himself, set by the villain lizard? How all his seemingly odd little friends come together as a team to help him and in the process become heroes themselves, is quite marvelous. It gives you an opportunity to believe that anyone can be a superhero while reaffirming one's faith in the power of friendship.
Julia Donaldson's exceptional prose needs no introduction. Axel Scheffler makes sure to give children a jolt of excitement as they spot familiar characters from other must have Donaldson's books (the Gruffalo), among the beautiful illustrated characters in this book.
23. A book on any festival – "Festival of Colours" by Surishtha Sehgal, Kabir Sehgal and Vashti Harrison (Reading age: 2 to 7 years)
The beauty of colours, which this book encompasses, is indescribable. Its beautiful, big, glossy pages filled with breathtaking magnificent illustrations, truly do justice to the beautiful festival of colours. It is inclusive when it comes to skin tones. It not just portrays Holi, but also explains its spiritual significance. It resonates beautifully with children, as Holi is seen from the eyes Chintu and Mintu who experience the joys of Holi – from making colours to putting colours on one another. This book of the Indian festival of Holi is a truly wonderful addition to every child's library.
24. A book that has siblings – "Moon : The Solar System" by Om Books (Reading age: 2 to 6 years)
When Eric is puzzled by the changing shape of the moon, his sister Chloe explains to him in detail why that happens, as they gaze upon the moon from their terrace. The book not only is very informative but also has beautiful illustrations – a special mention to the image depicting the beauty of the full moon. The book covers the concept of phases of moon with detailed reasoning as well as discussion on moon and moon landing, all simplified for young minds.
25. A book about animals/ birds – "Brown Bear, Brown Bear, What Do You See?" by Bill Martin Jr. and Eric Carle (Reading age: 0 to 3 years)
"Brown Bear, Brown Bear, What Do You See?" is amongst those early books which can be easily introduced to the little ones, during their first year. Giant, beautiful and colourful illustrations on each page introduce them to one new animal and colour at a time. Repetition in text helps them in following the book easily. A staple in children's first library.
26. A book on space/ solar system – "Planets : The Solar System" by Om Books (Reading age: 2 to 6 years)
'Planets' is a great book for introducing children to the planets. The book explains how planets rotate around the Sun. It also gives interesting facts about each planet. The illustrations accurately depict each of the eight planets, which help children in recognizing and differentiating the planets from one another. The illustrations are beautiful and concepts are explained in a simplified manner.
27. A picture book – "Hairy Maclary from Donaldson's Dairy" by Lynley Dodd (Reading age: 2 to 5 years)
This is the first book of the Hairy Maclary and Friends series by Lynley Dodd, which are classics and arguably among the most popular picture books. In this book Hairy Maclary, the dog takes us on a walk around his town, introducing us to his other doggo friends, all of whom are scared of the local tomcat Scarface. The books have simple, funny, rhythmic storylines and make good use of repetition. The books will also introduce bigger words to the little ones, who grasp it all up while listening to the books being read and then re-read to them on demand. The wide format with an illustration on one page and text on the other is child-friendly who love having the illustrations all to themselves. A highly recommended book as well as the series!
28. A sea creatures book – "The Pout-Pout Fish" by Deborah Diesen and Dan Hanna (Reading age: 1 to 5 years)
Read this book once and you will find yourself alongwith your kid incessantly pouting and singing –
I am a pout-pout fish, with a pout-pout face, so I bring dreary weary all over the place!
The poor sad little pout-pout fish is told to smile by every sea creature it meets but alas, it says she cannot help it since she has been created this way. But she discovers that smiling and being happy is in her hands after all! A cheery happy-ending with charming illustrations. The book will introduce children to several sea creatures like Ms. Clam, Mr. Jelly(fish), Mrs. Squid and Mr. Eight (an octopus) alongwith an endearing message on happiness.
29. A monster book – "There's a Dragon in Your Book" by Tom Fletcher and Greg Abbott (Reading age: 2 to 5 years)
A fun light hearted interactive book. Sure there is a monster breathing fire inside it – but it is a really cute one indeed! As the author tells the children not to turn page – they immediately do so, excited to see what catastrophe will the little dragon bring next! The illustrations are really bright and attractive. Another adorable book in the Who's in Your Book series by Tom Fletcher.
30. A book with magic – "Room on the Broom" by Julia Donaldson and Axel Scheffler (Reading age: 2 to 7 years)
This is a tale of a kind witch and her cat. As they fly through the windy stormy sky on their broomstick, they come across various animals who she welcomes with open arms when they needed her. She soon finds herself in a sticky situation. The story tells how the animals managed to help her and return her kindness.
This is a beautifully told story by Julia Donaldson – a story about friendship and compadre, kindness and inclusivity, teamwork and bravery – with a magical dusting – iggity ziggity zaggity zoom!
[Note from Team Kids Book Café: For your convenience, affiliate links (MARKED IN PINK) to some of the book titles & images have been added to enable you to buy the books from AMAZON, should you wish to! A very small amount of money comes to kidsbookcafe.com when you purchase a book via the amazon affiliate link provided (at absolutely no extra cost to you!). Do let us know if you need information about other children's books by writing to asha@kidsbookcafe.com.]