Title: Hanuman – Anjani's Mighty Son: Read and Colour
Author & Illustrator: Devdutt Pattanaik
Publisher: Puffin Books
Type: Paperback
Pages: 96
Recommended Age: 5-10 years
My 5-year old loves mythological books but Lord Hanuman by Devdutt Pattanaik has been the most favourite of all so far. The book narrates the story of Lord Hanuman's bravery, loyalty and intelligence in simple child-friendly way. Each page has only 3-4 sentences but it covers Lord Hanuman's story from his birth to the time Lord Ram returns to Ayodhya. Each event of his life has been captured in a crisp yet easy language.
The book is unique as it is both a picture book and activity book together. Each page has a coloured illustration and the next page has the same illustration for the child to colour. This makes it more interesting for children who like picture books. Doing the illustrations themselves excites them in ways I could not have imagined. My daughter has decided to try different types of colours for the illustrations. So far, she has already used wax crayons, plastic crayons, pencil colours and water colours.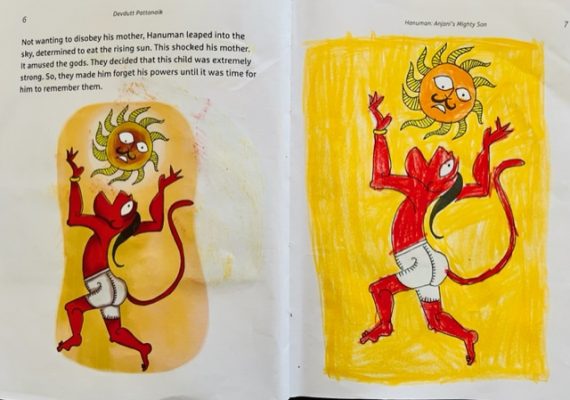 The illustrations depict the text so accurately that I have been using the illustrations to narrate the story to my 2 year-old as well.
Shyam, Our Little Krishna: Read and Colour, is the first book in this series which many many members including Amardeep have and recommend.
If you enjoyed this review and are looking for a mythology based activity book for your child, you can grab this book from Amazon (kbc affiliate link),
CLICK & BUY NOW!
Disclaimer: Prachi is part of the #kbcReviewerSquad and received this book as a review copy from the publisher.