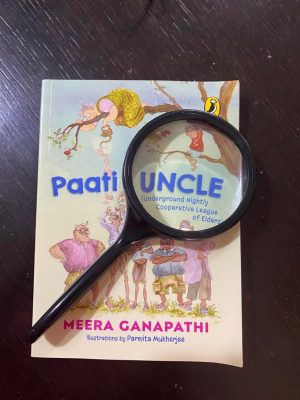 Book Name: Paati Vs UNCLE
Author: Meera Ganapathi
Illustrator: Parmita Mukherjee
Publisher: Puffin Books
Type: Paperback
No. of Pages: 152
Recommended Age: 7-10 years (publisher says 10 years+ so pls check out the inside pages shared below)
Paati Vs UNCLE arrived when Divit (my 9 yo son) was not well so we started reading it together. The book instantly made me nostalgic and I was reminded of my summer vacations as a child which I used to eagerly wait for every year. No holidays to any place was as exciting as this trip to my grandparent's place every summer. So I knew this was going to be one special book to read.
I'm sharing his review below:
This is the story of Injeshwaran, nicknamed Inju, an 8 year old boy who is going to his grandmother's colony, Parijat Retirement Colony, the most dull and boring place in Mumbai (arguably) to spend his summer break. His parents are on a trip to Paris but Inju did not want to be with them! This is because he wants the most boring summer vacation in the history of summer vacations (to relax, not set a record!). But is his summer going to be what he is expecting it to be like??
Unfortunately not. There have been multiple robberies happening in Parijat Retirement Colony where things like papads, sarees, toaster have gone missing! It is indeed serious and the police cannot find out who it is! They say it is an inside job and his grandmother (Paati) is so curious and determined to find out who it is! This is bad news for Inju as he will not get to relax and the summers would no longer be peaceful!
But he has a change of heart after Paati gets rejected from UNCLE (Underground Nightly Cooperative League of Elders), a group that was formed to find the thief. Paati is really really sad and Inju does not like to see his beloved grandmother unhappy. So after cheering Paati up by forming a new group called PAATI (People's Association Against Thieves International) they immediately get to work. Would PAATI be able to find the Thief before UNCLE?? Who is the thief after all??
I loved the mystery around finding the thief and the way PAATI tried to break down each thing to find the culprit. It felt like I was trying to solve the mystery with Inju and this is one book that has left me awestruck after finishing it. I loved the illustrations as well and when I finished it I was disappointed as there was no more to read! I really hope there is one more book with Inju and Paati after this. I would not mind such an adventure-filled summer break where I get to crack such a mystery and help others.
If you enjoyed this review and wish to have a "relaxing" time with Inju and his Paati, you can order this book from Amazon (kbc affiliate link),
CLICK & BUY NOW!