This is my nephew's story for the #kbcAPinchOfMagic contest! I'm sharing it on his behalf. Yes, his parent is a part of the kbc facebook group 🙂
A spoon of Tulsi Leaves
Since this lockdown started, we had lot of time on our hands and our parents asked us to try out a hobby so that we could learn something new in our free time. We were given the responsibility for taking care of plants at our home and gradually we started loving the whole process. We took care and watered more than 20 plants located in our house. We started saving up every month from our pocket money and bought a new plant every month.
One fine day an idea clicked me where I wanted to try an experiment using one of my favourite plants "Tulsi" since I had heard from my mom and dadi that it is a magical ingredient and has lot of secret goodness. Finally decided to try it out to achieve one of my fantasy dream of flying so that I could travel the world on my own and explore it.
I took 1 spoonful of Tulsi leaves and added a pinch of salt, sugar, butter with Cinnamon powder (Butter and Cinnamon for taste !!! ) and made it into a light green coloured paste. Now the paste was ready for tasting. So I murmured a silent prayer to God for its success.
I gathered all my courage, picked up a spoon and ate a spoonful of paste and suddenly felt a bit lighter and saw myself floating in air. This was an outstanding experience and it felt that this is the best moment of my whole life.
This gave me an thought for selling this formula in our colony, and to our friends. I told about this to my friends and decided of a date 5th July, to do a workshop so that others can believe in the authenticity of his magical experiment and afterwords sell this herbal products with magical powers.
I invited my brother Akshit so that he could help me to make more of such amazing products. I suggested that we should first choose a name of our product and name of our Company. We finalised a name as Tulsi-Genica for this magical herbal product and Rakshit loved that name. My parents were still not aware about this new invention. We both started working on this project every night.
On one night when they were designing our logo, my father Hiroshi saw me and called my mother Aparna. They were quite happy seeing us working together and doing something productive. Since Rakshit was expert in fine arts, he also designed a pamphlet for our workshop. No one believed us but still we were excited for the inception of their magical workshop.
Workshop day:
The venue was filled with friends, family and neighbours to see the herbal magical product Tulsi-Genica #1 workshop as per their pamphlet which could make people fly. Everyone waited with bated breath to see the impossible. We were quite nervous initially but gathered all our courage and started with an introduction about our product and began the live experiment. We placed all the ingredients on the table i.e. salt, sugar, Cinnamon and around 15 tulsi leaves and prepared the paste as per our formula.
Now, it was tasting time which would demonstrate the actual magic of flying. I took a spoonful of green paste and everyone waited for magic to unfold. Nothing was happening and as the time passed, people were running out of their patience.
I took another spoonful, gulped it down with water and instead of flying in air, I started vanishing in thin air and reappearing at an interval of 10 seconds. We kept on trying for 20 mins to find what's wrong with the formula but were unable to crack it.
Our Parents came and said, "Rakshit and Shivaansh you are doing well" and we have researched and web says after 1 night everything will be normal. We felt super happy and said we will not do anything like this without keeping you informed . We checked the recordings also but still were not able to do that again. Aparna [mom] said maybe you have forgotten some ingredient…
Rakshit nodded his head and said thank you for attending this workshop. Hiroshi [Dad] said kids you did a great job, one day you will achieve something out of this.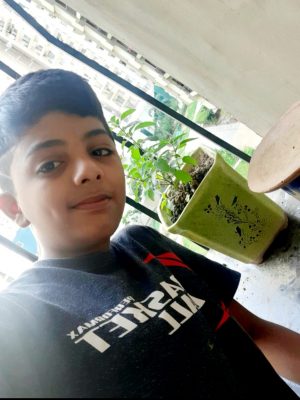 After 2 months – Rakshit was invited as an expert in Plants and Nature questions to answer. Shivaansh published his first book and became famous.
This means Good things take time but great things happen all at once ..
Written with love by Shivaansh.. Thank You