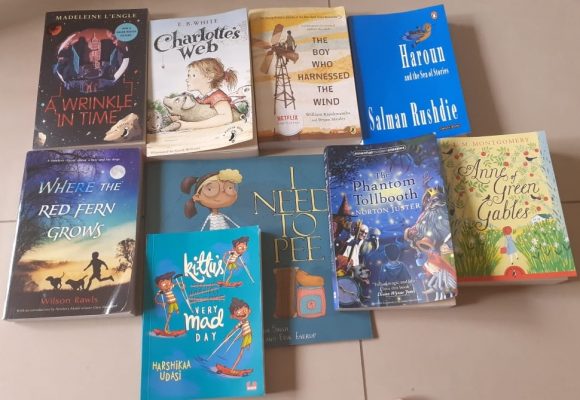 The world of books has so much to offer that even a lifetime is less to cover everything that is good to read. It's really impossible for most of us to purchase every book we like (tight budgets) so whenever I get a chance to buy books on sale, I try to make the most of it. Amazon sales are really sought after (as they stock a huge variety, offer great discounts and delivery is mostly smooth).
Here's the list of books that we have recently purchased in last two book sales from Amazon via kidsbookcafe.com. These books are painstakingly chosen after going through many lists and articles and are backed by very good reviews from many readers.
1. Anne of Green Gables (9-12 years) – written by LM Montgomery this is a classic tale where Anne Shirley, an orphan not only makes her way into Green Gables farm for work but also into the hearts of the family who later can't imagine life without her. A must read for growing up tweens and teens.
2. Haroun and the Sea of Stories (part of 100 children's books to read in a lifetime on Amazon) – written by Salman Rushdie, an author whose many works are banned. It's difficult to believe that he has penned down a children's book with an amazing fantasy around stories itself. This book will intrigue and interest children who are above 12 years old and love fantasy as a genre.
3. The Phantom Tollbooth – written by Norton Juster, this wonderful fantasy cum adventure story revolves around Milo, a boy who is thoroughly bored in life and wants some fun. An enjoyable read for 10-12 year olds who are in love with Percy Jackson and Asterix.
4. A Wrinkle in Time (9-11 years and part of 100 children's books to read in a lifetime on Amazon) – Now a major motion picture, this book by Madeleine L' Engle is a highly acclaimed book where three children – Charles, Meg and their friend Calvin travel through time in search of Charles' and Meg's missing father. Any teen/tween would like to join their dangerous journey through time and space.
5. Charlotte's Web (7-11 years) – written by E. B. White. This is the cutest story I have ever read about friendship, empathy and kindness. Read how Charlotte, a large grey spider befriends Wilbur, the pig and saves his life. This is a highly recommended book for 10 year olds and above.
6. Where The Red Fern Grows (8-12 years and part of 100 children's books to read in a lifetime on Amazon) – written by Wilson Rawls this timeless classic is a story about a boy and his dogs. It is a bestseller and winner of multiple awards. It captures the powerful bond between man and his loyal animal friend, dog. A must read for tweens and teens who love animals.
7. The Boy Who Harnessed The Wind – This book is a New York Times Bestseller and now a Netflix film. It's based on a true story of survival against the odds. A must read for kids as it teaches them what a single man with an inspired idea and determination can accomplish.
All books mentioned above need to be personally reviewed before buying as kids and even adults have specific liking and interest when it comes to reading books. Also kids can enjoy a book only when they can understand it well. Reading a book should give pleasure to the reader.
Besides the above mentioned books, we had also bought a few books which we had missed out reading earlier and were really worth reading. Also few books were bought in order to add to our collection.
8. Kittu's Very Mad Day – A small storybook by Harshikaa Udasi on the skating adventures of a differently abled boy. A good read for 8-10 year old kids as it will help them feel confident in their skin and inspire them to attempt things which most of the people around them think they can't do.
9. I Need to Pee (read review here) – This book by Neha Singh is a must read for all kids and adults as it talks about our basic human right and need to pee. A less discussed topic amongst people it has been beautifully woven into a girl's story of how she feels the need to pee frequently and at odd times and places and how we all must accept this as a natural thing and create awareness around the convenience and hygiene part associated with it.
[Note from Team Kids Book Café: For your convenience, affiliate links (MARKED IN PINK) to some of the books have been added to enable you to buy the books from AMAZON, should you wish to! A very small amount of money comes to kidsbookcafe.com when you purchase a book via the amazon affiliate link provided (at no extra cost to you!). Do let us know if you'd like to buy some other children's books that are not listed here yet, by writing to asha@kidsbookcafe.com.]