A couple of weeks go, it finally snowed here!
Ah! The view was breathtaking and my 3 year old was super thrilled to go out and make a snowman! The very next day, all the snow melted
and my child was sad, shocked and disappointed.
Of Course 'Curious George' was now on her doing all the Tandav, Bharatnatyam and what not. One after another questions poured in –
where did the snow go?
when will it snow again?
can I make another snowman?
I hadn't yet introduced her to a book on Weather. Whatever she knew was what we observed in nature (enjoying the fragrance of lime trees in summer to loving the colors of Fall to the trees going leafless in winter). Therefore I got these two books, that might not quite need an introduction, coming from the best of their kinds, A NAT GEO Series and from Usborne Publications. I would like to share our experience and share a little sweet treat with you all!
While the Usborne 'Lift the Flap Seasons and Weather' encompasses all the four seasons of Spring, Summer, Autumn and Winter, it also talks about the changing weather. The lift the flap is really cool on the page especially where they just give an idea via a picture of what to wear for what kind of a weather.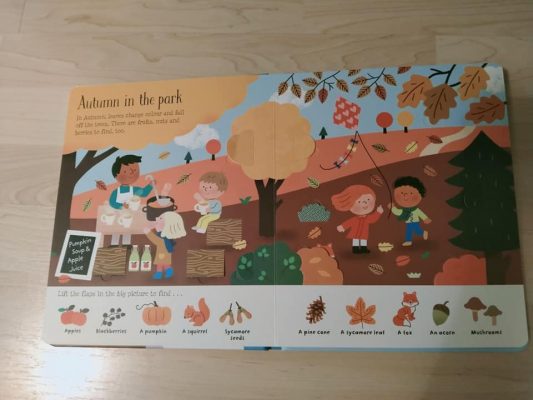 What is also beautiful is that there are other aspects to a particular season covered like for example in Autumn, the Squirrels would hoard on the acorns (which redirects us to the Usborne 'Peep Inside Series'/ 'Look Inside series' to know more about the age appropriate introduction to the events preceding the hibernation of squirrels). It's also quite relatable as we have acorns, pines, sycamore seeds, everywhere here!
Coming to my all time favorite Nat Geo series, The Little Kids First Big Book of Weather is extremely engaging. It has the information on point, not too much, just enough to engage the curious minds and to keep the curiosity soaring. There are activities here and there just like the picture, where the child needs to rearrange what is expected in which season. We had lot of fun doing this
.
The big illustrations of Nat Geo are so classic that we run back to pages like a 'barren dry land' or a 'windstorm' which she has never seen!
Of course we don't read out each and every line but the real pictures do the effect just rightly and gets those questions coming your way!! We also checked on YouTube to get a visual effect of a windstorm just to have an idea of what a 'windy day' looks like.
As for your treat, the 3 year old took 2 hours to make her very own snowman all by herself 🙂
Happy Reading Folks!
ps: Usborne has another book on the topic (which we don't have). It's called Lift-the-Flap Question Answers About Weather .
Added by Asha: EVERYTHING WEATHER (Nat Geo) is another amazing book for 4+
Usborne Beginners has many books on weather, storms, hurricanes, etc. which are apt for 3.5 years-8 years
USBORNE See Inside Weather and Climate has been recommended by Amruta for 6 years+.
Magic Windows: Seasons (A Ladybird Magic Windows Book) board book for 0-3 years (12 pages)
[Note from Team Kids Book Café: For your convenience, affiliate links (MARKED IN PINK) to some of the book titles & images have been added to enable you to buy the books from AMAZON, should you wish to! A very small amount of money comes to kidsbookcafe.com when you purchase a book via the amazon affiliate link provided (at absolutely no extra cost to you!). Do let us know if you need information about other children's books by writing to asha@kidsbookcafe.com.]