Author: Pearl D'Silva
Illustrator: Vasundhara Arora
Publisher: Ektara Trust
Type: Paperback
Pages: 32 pages
Age group: 4-8 years (even older kids might enjoy as it's so well written)
"Wow, what a story, Mumma'', that's what my soon to be six year old said, when we read this amazing book about the Padmashree awardee, Usha Uthup ji. We all know her as a famous and successful singer now, but the book highlights the difficult journey she has had to reach here.
Born and brought up in Mumbai – the city of dreams – Usha, as a little girl always dreamt of being a singer. All she wanted was to be successful in what she loved doing the most – singing. But it wasn't easy at all. Her unique voice was not liked by everyone, and her music teacher refused to let her join the school choir because of this. Even later in her career, many organisers refused to offer her opportunities due to her voice and different dressing style. However, she was determined and persevered on.
Although written in simple, easy to understand language, it is the author's choice of words that makes the book and Usha ji's story come to life, and gives the reader an experience of what exactly she must have felt:
"My voice boomed in the room. The audience cheered, The club echoed with applause."
However, it was the illustrations that completely took my breath away. The illustrations are bold and bright, which will make you want to look at the detailing in Usha ji's famous Kanjeevarams, her flower adorned hair and her unique sports shoes, again and again! The unique dressing style that she developed based on her comfort, has been highlighted very well through the illustrations. Usha ji travelled across the globe but moved to Kolkata because of sheer love and vibe of the beautiful city. She has been living there for forty years now. She carries her emotions for Kolkata wearing a big bindi embossed with the letter 'K' written in Bangla. Her attachment to the City of Joy has also been very well captured through the illustrations.
Despite being criticised for going to concerts in a saree and bangles and bindi, Usha ji stuck to her unique personality, because she believed that one must do what one likes. And today she is the style icon for many, as she says about singing in her Kanjeeverams,
"Each time I wear one to the stage, I become a rockstar in a sari".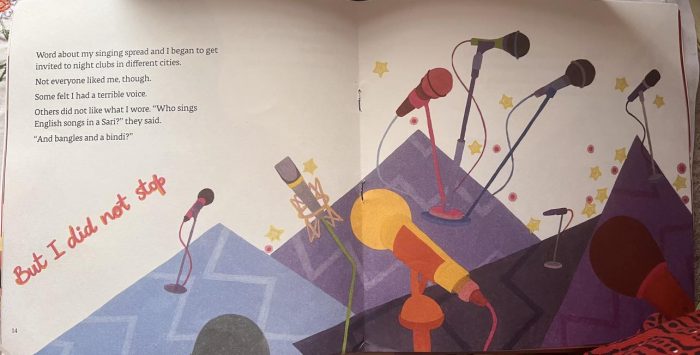 It truly shows her love for herself. After reading the book, my daughter said, we all should be our own favourite! Don't we all want our children to not give up, if things are not in their favour? Certainly, yes! This book perfectly depicts how to acknowledge to be different and not be a part of rat race.
Her confidence in doing things differently and without craving for acceptance is something that my daughter was most impressed with. While doing one of the concerts, Usha ji thought it would be so nice if she had comfortable shoes to wear with her saree. What she did next will surprise you!
To know what she did, please read the beautiful book by Pearl D'Silva about Usha ji that will leave you and your child high-spirited for sure.
If you enjoyed this review and wish to become a rockstar in your own way, you should get this book from Amazon (kbc affiliate link),
CLICK & BUY NOW!
Disclaimer: Shraddha is part of the #kbcReviewerSquad and received this book as a review copy from the author.