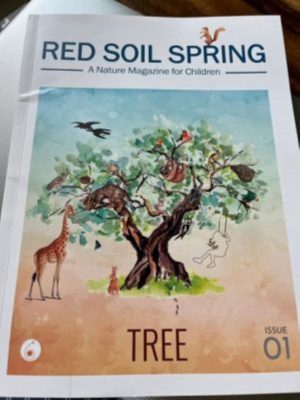 TITLE: RED SOIL SPRING – A Nature Magazine for Children
TYPE: Paperback
PUBLISHER: Red Soil Spring Ltd.
RECOMMENDED AGE: 7-12 YEARS
As parents of a child who is more inclined towards non-fiction, we are always on a hunt for fact books. So, when Asha and KBC introduced the Red Soil Spring magazine to us; we were more than delighted. It's a monthly nature magazine with mesmerising pictures to soothe your senses and spring freshness and happiness in you. It helps establish a deep connection with Mother Earth that is missing from our busy lives.
I would love to highlight the things that impressed us at first sight – the paper quality (papers are FSC certified with vegetable ink used for printing), the breath-taking pictures, the last section of the magazine and last but not least the narrative style of the magazine.
The first issue is TREE- an eternal part of our existence. The magazine is divided into the following sections – Explore the Earth, Know our Co-habitants, Connect with the Earth and Celebrate Nature. Sharav specifically loved reading about TREE CROWN SHYNESS. It is a term used for the fascinating pattern formed due to the gaps between treetops. Ever heard before?!
The magazine offers a plethora of experiences from summer in Chile to the Sunderbans Mangrove Forests and also the intriguing 'One Tree Forest'. And if you ever feel overwhelmed with all the details, head straight to the last section to relax. With a hands-on guide to composting, a tree word search and art with leaves, you'll never have a dull moment around with this magazine.
So, if your family is the one who loves being amidst nature and all things green bring happiness to your soul, then do subscribe to this wonderfully curated Nature magazine.
P.S. This magazine will prove to be of great help for your school projects and activities. Happy Reading!
If you enjoyed this review and wish to subscribe this unique nature magazine from the Red Soil Spring website,
CLICK & BUY NOW!