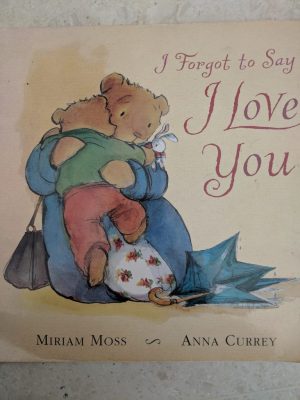 Book: I forgot to say I love you
Author: Miriam Moss
Soft book/hardcover
Ages: 1-5 years
A heart warming story about morning madness
The morning madness is in every home, right? In my case I shake the child awake about a hundred times, wrestle with him to get him dressed and then stuff breakfast down his throat. It is pretty much the same every morning ok I may have slightly exaggerated.
I forgot to say I love you is such a heart warming story about the morning madness between a boy bear and his working mother. The boy bear gets ready for day care and of course he is taking his own sweet time even after reminders from his anxious mother. He gets ready while he is playing with his favorite toy rabbit. In the morning rush and on top of that the rain, they scurry to make it on time. But then baby bear's lunch box falls and then mother bear is even more late for work. In a hurry baby bear is left at his day care without his favorite toy rabbit and without a hug and the customary I love you from his mother. He feels crushed. This part made my heart sink. I imagined that happening to my boy.
But the ending of the story is just so touching and it just may leave you all teary eyed. The mommy bear although late, returns with the rabbit and also says I forgot to say I love you!
Whether a mom is working and managing both office and child or a home maker managing her home and child, this story connects with all. Both me and my son really enjoyed reading it. Hope after reading this your mornings have a little bit less of madness.
Disclaimer: Keep a tissue nearby because this one will surely leave you all warm and fuzzy.
Another book written by Miriam Moss is The Snow Bear.
Miriam Moss has written many heartwarming books.
If you liked this review and would like to buy this book from Amazon (kbc affiliate link),
CLICK & BUY NOW!