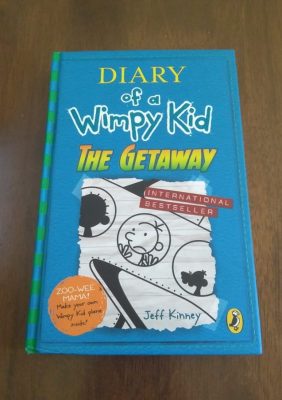 Book: Diary of a Wimpy Kid: The Getaway
Author: Jeff Kinney
Age: 9-12 years
(Note from Asha: This is being posted by me on behalf of my childoo Aarini, aka #the11yearold)
If you've been reading the other Wimpy Kid books, you'd know that the Heffley family is the most disorganized and frazzled family ever known. If you haven't read any other Wimpy Kid books, well, here's an insight on their latest adventure in a foreign country (no prizes for guessing – it was a mess!).
It all started when Greg's parents saw an ad of a tropical island resort that they had gone to for their honeymoon, called Isla De Corales, which was also known as "paradise". Greg's parents wanted to escape the cold of their home so they decided to fly there for a holiday. According to Greg, he didn't really like the whole idea of "locking himself in a metal tube and flying there", but he was outvoted. Everyone wanted to escape to this so-called paradise for winter.
Everything was going fine until they reached the airport, where as expected, they were late and their luggage was overweight. They went inside the plane and Greg and his family went into the economy section while his dad got to sit in business class because of his frequent flyer miles.
Throughout the flight a series of really funny things keep happening which will make you roll with laughter. Seriously! To give you an idea, he was stuck in the middle seat between a couple with a baby who banged the window and who barfed his mashed peas all over them.
It was Greg's most horrifying flight but it will be the reader's most hilarious flight to read about for sure.
The crazy stuff doesn't end here. When they reached their resort rooms, they realized that they had picked up someone else's luggage, so they had to wear the same pair of clothes that they were wearing for a whole week. The problems didn't stop here. They were hit by sun poisoning (that's a thing), stomach troubles and venomous creatures. Just a snapshot of how the Heffley family enjoyed their relaxing holiday in "paradise".
All in all, this is a very funny and engaging book. I read it in one go and only stopped when my mom called me for meals or when I had to go to school :).
I am a huge fan of the Wimpy Kid series. I have read all of them and own 8 of them. I think The Getaway is my favourite Wimpy Kid book so far. That's why I thought of writing a review on it.
Whenever the latest Wimpy Kid book is out I hassle my mom to buy it for me. Now I'll hassle her to buy it from Kids Book Café!

If you liked my review and would like to buy this book from Amazon (kbc affiliate link),
CLICK & BUY NOW!
Other Wimpy Kid books in the series are:
Diary of a Wimpy Kid: Rodrick Rules
Diary of a Wimpy Kid: The Last Straw
Diary of a Wimpy Kid: Dog Days
Diary of a Wimpy Kid: The Ugly Truth
Diary of a Wimpy Kid: Cabin Fever
Diary of a Wimpy Kid: The Third Wheel
Diary of a Wimpy Kid: Hard Luck
Diary of a Wimpy Kid: The Long Haul
Diary of a Wimpy Kid: Old School
Diary of a Wimpy Kid: Double Down
Diary of a Wimpy Kid: The Meltdown
Diary of a Wimpy Kid: Wrecking Ball
Diary of a Wimpy Kid: The Deep End
Diary of a Wimpy Kid: Big Shot
[Note from Team Kids Book Café: For your convenience, affiliate links to some of the books have been added to enable you to buy the books from Amazon, should you wish to! Do let us know if you'd like to buy some other children's books that are not listed here by writing to asha@kidsbookcafe.com and we'll enable a shopping link for you!]