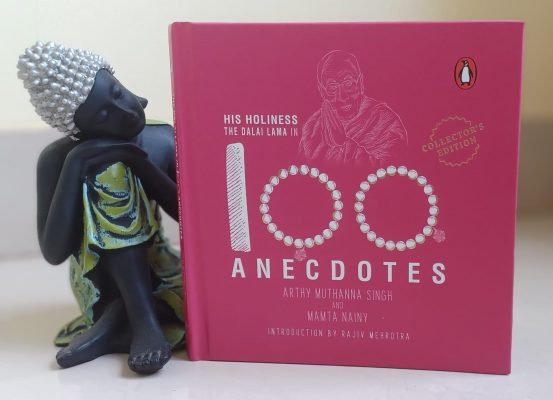 Title: His Holiness the Dalai Lama in 100 Anecdotes: A Collector's Edition
Authors: Arthy Muthanna Singh and Mamta Nainy
Type: Hardbound
Pages: 112
Published by: Penguin Books, Penguin Random House India
Age group: 10 years+ (meant for all age groups – even adults will enjoy reading this one)
This is one collector's edition not just for the bookshelves, but more than that, essential reading for our mental and physical well being.
We all know of his Holiness, the 14th Dalai Lama. His beaming visage and beatific smile. But how well do we know the child, the man, the world leader, the Nobel Peace Prize Winner – His Holiness, The Dalai Lama?
100 Anecdotes, is a book of discovery and spiritual learning. The creators, Arthy Murthanna Singh and Mamta Nainy, are well known children's writers and editors, who have researched each aspect of His Holiness' inspirational life. As the authors say in the preface…
"His Holiness makes everyone comfortable by being attentive, listening to each and everything they have to say… "
Reading this well crafted book is a journey of self discovery, bringing you inspiration, and a little closer to your inner self.
Here are some things I found fascinating about his Holiness, the Dalai Lama:
– From childhood, he has been hugely interested in engineering, technology, even cosmology. So much so, that he describes himself as, "My body, this person, half Buddhist monk, half scientist."
-He became the Head of State at the young age of 15, as the political and spiritual leader of Tibet
-He first visited India to tour all of the sacred Buddhist sites, from Sarnath to Bodh Gaya
-Little did he know that political uncertainties in Tibet created by China, would force him to seek asylum in India
-He and his small entourage had to disguise themselves as Tibetan soldiers, and perhaps that was the only time the Dalai Lama was forced to remove his iconic spectacles
-The entry point for The Dalai Lama into India was not Dharamsala, it was Tawang in Arunachal Pradesh. From here, the Indian Government arranged a special train to Mussorie. Finally, he was relocated to Dharamsala, a quaint, remote hill station (he and his men actually had to look for it on a map to see where it was). Here in Dharamsala began a beautiful new chapter in His Holiness' life, among nature, wild monkeys, stray cats as pets, and a bountiful garden. 
-His Holiness has narrated a unique experience at the Potala Palace, that Mahatma Gandhi appeared in his dream…
"Not like the pictures, but Gandhi for real…"
-The Dalai Lama is equally passionate about spiritual learning and scientific learning. It's a revelation that His Holiness enjoyed a deep connect with famous world physicists, neuroscientists, even business leaders
-His Holiness considers himself as the son of India
-His interaction with Baba Amte and Mother Teresa is poignant and memorable
-His Holiness starts his day at 3:30 am ( yes, 3:30 AM!) and following strict monastic rules, does not have dinner, retires to bed at 7 pm
These are the nuggets that stand out from reading this eminently well crafted book. The time line and trivia at the end sum up a living life so immortal, full of mystique, wisdom and most important, hope and spiritual freedom.
Since this hardbound book is a Collector's Edition, it makes the perfect gift.
You can read my review of Satyajit Ray in 100 Anecdotes here. All the other books in the 100 Anecdotes series can be found here.
If you liked this review and wish to order the book from Amazon (kbc affiliate link),
CLICK & BUY NOW!