Life on kidsbookcafe.com is getting more and more magical by the day!
Presenting #kbcSuperpowerContest
Ever dreamt of having a hidden superpower? Ever wanted to go to some place magical with your superpower? Ever wanted to fix things with your superpower, secretly or openly? Here's your chance to tell us!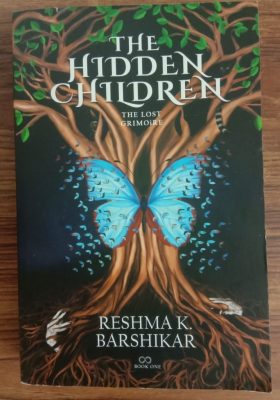 This is a write & review contest where 3 lucky folks will win a signed copy each of 'The Hidden Children' by Reshma K Barshikar. Plus the opportunity to review the book!!
So here's what you need to do:
Topic: If you had one superpower, what would it be? What would you do with it?!
Length: Max 500 words
Please post your story here on kidsbookcafe.com, ideally with one image. Add an interesting title unique to your story so it gets noticed immediately! Don't forget to use the hashtag #kbcSuperpower in the title!

Only entries that are posted on kidsbookcafe.com will be considered.
Age no bar! This contest is open to both children and adults! You just need to be a registered member of kidsbookcafe.com. If you are a child below 13 years, your parent should register on kidsbookcafe.com and post your story for you.
Contest Duration: Jan 30 to Feb 12, 2020 (EOD)
Edit: Extended to Feb 20, 2020 owing to popular demand!!
The 3 most magical stories will win! Like we already mentioned, winners will not only win an author-signed book each, but also get the opportunity to post a book review of the same.
Praise of the book: "There is real magic in this book. Not the fictional magic of spells, wands and mythic superheroes, though there's plenty of that as well. I mean the magic of wonderful writing, a strong, original voice, and a fictioneer's power to weave worlds and make real people out of words and punctuation. I was in awe of every page and thrilled by the end of the novel. Reshma K. Barshikar goes straight onto my very short list of must-read authors of fantasy. The Hidden Children deserves to be on every bestseller list in the world, and get rave reviews as well. Write on!" –Ashok K. Banker
What my 12 year old and her friends liked about The Hidden Children:
"It's got all the earthy superpowers I would ever want to have."
"It has a very gripping storyline and left me wondering what would happen next?"
"The author makes you a part of the story because as a reader I felt like I was one of the characters experiencing all those magical adventures myself"
And because these tweens loved The Hidden Children, we thought of bringing this amazing Contest to you! Thank you Reshma K Barshikar!!
Please note: Teams The Hidden Children and Kids Book Café retain the right to choose winners of the contest and their decision is final.
In case you have any queries at all – please write to asha@kidsbookcafe.com.
Let's raise readers together and create magical stories!