Many moons ago #kbcMember Shipra asked about books on being a good sport and managing emotions. And then some time back Sabah asked for books to tell kids not to be disheartened if they don't win. So we curated a post of books which would encourage kids to be a good sport, to explain that participating and trying your best is good enough and that winning is not always important, how not to be a sore loser, how to not feel bad and have the confidence as well as courage to try something again! Here's to NEVER GIVING UP!
For 3-6 years
GRRRRR! by Rob Biddulph – this comes highly recommended. All of Rob Biddulph's books are meaningful and impactful. Kausar introduced most of us to this amazing author! To quote Achira:
Grrrrr! written by this amazing author is about a bear who has been winning the best bear in the woods award for three consecutive years and is working real hard for the upcoming competition! He is the best- be it fishing, hula hooping, scaring humans or making the loudest grrrr! But what happens when there is a new bear on the block. And the. right on the morning of the D day..our dear bear friend loses his grrrr!! He always thought he didn't need friends and his trophies amd medals are his companions. But is that really enough?? Will he win this year too?? A beautiful tale of friendship and importance of friends in our life makes this book so special. And talks,in a beautiful way, that being jealous will always keep you lonely.
OUR EMOTIONS AND BEHAVIOUR: I WANT TO WIN! A BOOK ABOUT BEING A GOOD SPORT by the acclaimed Sue Graves for 3-5 years (32 pages). This author has written many many helpful books that our members keep ordering and recommending – especially the ones in the BEHAVIOUR MATTERS series.
A Feel Better Book For Little Tempers
For 3 – 7 years
Charlie And Lola: I've Won, No I've Won, No I've Won – highly recommended by Gauri Aras & Asma.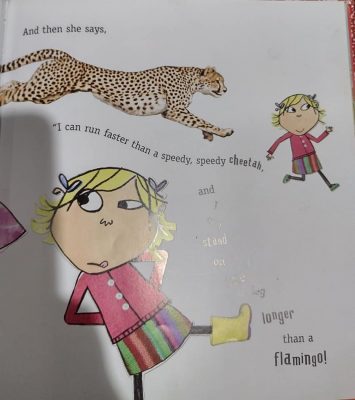 Quoting Gauri,
I was searching for books on siblings when we were going through a phase where my younger one wanted to tear and break whatever her dada (elder brother) was playing with. This is when Asha Chaudhry ji suggested Charlie and Lola books and I am so thankful to her We picked up I've won No I've won. This book talks about how little sister Lola wants to compete with elder brother Charlie for everything to win. The cute banter between siblings will melt your heart. My son immediately associated himself with Charlie and often say his sister is funny and cute like Lola. The book ends in a real interesting way leaving a lot of room for discussion. This is a book which imparts a very important lesson without being preachy.
Charlie and Lola books are perfect to address various pre-schooler issues as well as anything and anything to do with siblings 🙂
Kevin The Unicorn: It's Not All Rainbows
My Lucky Day – there's a mini review her 7 Childrens book that teach you lessons To quote Neerja,
A hilarious story where a pig stays positive despite being in a very messy
situation and smartly handles it.
Pig the Winner – We all love Pig the Pug series by Aaron Blabey and have grabbed many books from the legendary Scholastic Sale every year! Scholastic India has quite a few books in this series which can be ordered from Scholastic India via our kbc storefront as well. Scholastic India always has special offers on.
OUR EMOTIONS AND BEHAVIOUR: I WANT TO WIN! A BOOK ABOUT BEING A GOOD SPORT
For 4 – 8 years
Olympig! (4 – 8 years) Amardeep highly recommends this one:
Olympig is a lovely story of Boomer the pig who wishes to take part in the animal olympics, and simply refuses to give up. He takes part in weightlifting, swimming, diving, running, etc but finds that other animals are better than him at each of the sports. Will he give up trying? This lovely and rather hilarious book aims to teach the importance of being a good sport, practicing and never giving up.
The Girl Who Never Made Mistakes – acclaimed and recommended
Peppa Pig: Sports Day (There are 2 books, a board book format for younger kids and a Paperback for older kids)
If Wining isn't Everything, Why Do I Hate to Lose? (4-8 years)
Sally Sore Loser (5 – 8 years)
All of Julia Cook's books address issues! (5 – 8 years)
I Wish You More (5 – 8 years)
Sometimes You Win–Sometimes You Learn for Kids (Old Edition) for 6-8 years
For 7 – 11 years
Winners Don't Whine and Whiners Don't Win!
Books that explain kids not to feel dejected after losing, but having the courage to try again.
Giraffes Can't Dance (read review here)
After The Fall (this book has been reviewed many time in our group and comes highly recommended)
We're All Wonders – this is brilliant!
Fauja Singh Keeps Going: The True Story of the Oldest Person to Ever Run a Marathon for 4/5-10 years. This is highly highly recommended for NEVER GIVING UP by Amardeep:
One of the most inspiring stories I've ever read, that beautifully conveys the message that determination and hard work can overcome all obstacles in life. The illustrations and the fact that this is a true story, will make sure that you are thinking about Fauja Singh long after closing the book.
Many thanks to Divya, Amardeep, Shipra, Sabah, Sunita Tagra, Gauri Aras, Asma, Priyanka Padmanabhan, Swetha Yarlagadda, for sharing their recommendations/reviews and helping us curate this post.
[Note from Team Kids Book Café: For your convenience, affiliate links (MARKED IN PINK) to some of the book titles & images have been added to enable you to buy the books from AMAZON, should you wish to! A very small amount of money comes to kidsbookcafe.com when you purchase a book via the amazon affiliate link provided (at absolutely no extra cost to you!). Do let us know if you need information about other children's books by writing to asha@kidsbookcafe.com.]