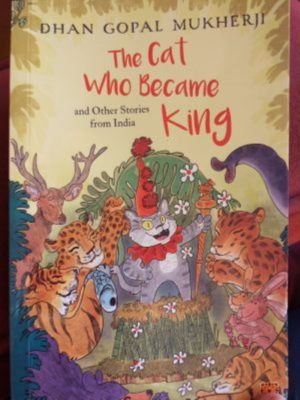 Title: The Cat Who Became King and Other Stories From India
Author: Dhan Gopal Mukherji
Publisher: Talking Cub, an imprint of Speaking Tiger Books
Type: Paperback
Pages: 156 pages
Age group: 9 years and above
Any book about India is fascinating to Stavya, my 7 year old daughter… She was over the moon to receive it specially from our dearest KBC… Now that we are back in Canada, she is missing all the love and affection from her dearest ones back home. She holds all the gifts and books she's received dearly and reads it over and over again… This book is among her favs.
The cat who became king, the Mongoose who saved the baby, how the sea turned salty and many interesting stories from India has come to life in this collection. Each of these stories is given a unique twist by the author and is made suitable for the young readers. The author has subtly intertwined morals along the storyline, that even before a kid completes the story, they realize it clearly. There is humor, kindness, greed, bravery, courage in these stories told through the lives of animals, showing there's so much to learn from everything around us.
Stavya loved that the stories were very imaginative and interesting that she couldn't put it down. In her own words she says, "It's so imaginative, like Chadraputra the son of the moon comes down to drink the sweet water of river Ganges". Or how thoughtful and right it feels when the sage says,
"It's true God made Bunnies and foxes. If I'm to save this animal on my lap, I must offer another in his place to you, the hungry one, you both are guests at my door."
The bunny that shows it need not be big and fierce in order to be brave. Madhukara the bee gathers honey, but has to learn when to stop. The monkey which imitates its owner- the gunner so much leading to its own destruction. It teaches how it is better to be true to one's own inner nature than to copy the outer movements of another. These are just a few among the many more interesting stories in the book and these stories and their values will definitely leave an impression on your mind.
If you enjoyed this review and wish to order the book from Amazon (kbc affiliate link),
CLICK & BUY NOW!
Disclaimer: Sharadhi and her daughter Stavya are part of the #kbcReviewerSquad and received this book as a review copy from the publisher via kbc.