Title: Fright Night – I'm Not Afraid Of The Dark
Authors: Helena Harastovà & Jakub Cenkl
Publication: Scholastic
Type: Pull-the-tabs Board Book
Age group: 2/3 – 5 years
We received this wonderful book as part of a recent contest on kbc powered by Scholastic and I'm glad to review this book.
Do you wish to know how Hari has overcome his fear of the dark? Please read on…
This book is about a boy named Tommy who wakes up in the middle of the night and assumes things around him as ghosts and is therefore very frightened. But once he switches on the light or uses a torch light, he can see all the things for real, his family members or pets around him and feels relieved and not afraid of them or anything else.
Each page is illustrated showing different places in and around the house with the pull-the-tabs feature which grabs children's attention and they correlate to the story so well.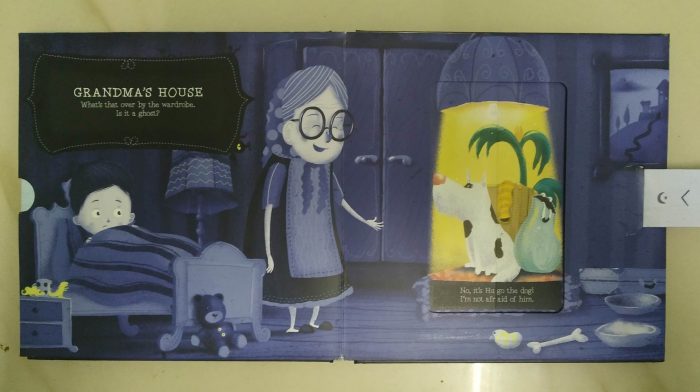 Hari and Sai love this book a lot because of pull-the-tabs. When my brother read aloud for Sai, he was engrossed totally and enjoyed this book.
This is a magical book!
A few months back, Hari started saying that I'll not go there if it's dark, huntsman (character from Snow White) will come there. He preferred the lights to be switched on wherever he wanted to go or he sought our help or Sai's help to switch on.
Last week, we came to my mom's place where we received this book and started reading it on that day itself. For the past three days, Hari never asked any of us to switch on the light instead he just goes without any fear. I asked him about this change – do you like this book and is that's the reason? He said yes!
I am so glad that this turned out to be the right book for Hari to overcome his fear of the dark. He amazed us with his great change.
P.S.: When I received this book, my husband said that hey this book is all about ghosts, the pictures are scary for them but once he had a look at pull-the-tabs and on seeing Hari and Sai's love towards this book, he felt happy too. I don't know how many times he has read aloud for them.
If you enjoyed this review and wish to buy the book from Scholastic India (kbc affiliate link), type Fright Night in the search bar after clicking this red button.
CLICK & BUY NOW!
Should you wish to buy this book from Amazon (kbc affiliate link), kindly click here.