Wonder House has always been a household name and a friend to all babies and toddlers thanks to their MY FIRST LEARNING LIBRARY which has been the first book boxset many of our kbc members have introduced to their childoos. In fact, this is one of the most recommended "must have first boxsets" for babies in our community. Quoting Girija:
I bought this set of 20 books when Baby M was of 6.5 months. It was a gamble that paid off quite well. We read these a lot of times throughout the day with M choosing which book she wanted us to read next. Absolutely recommend!

This was the set that made M fall in love with her books. At 10 months she could sit with these for an hour at a time!
We have an exciting announcement!
Drumroll….. We at Kids Book Café are community partners of Wonder House Books and hope to bring you their new releases as well as some interesting campaigns in the near future!!
Presenting the latest releases from Wonder House!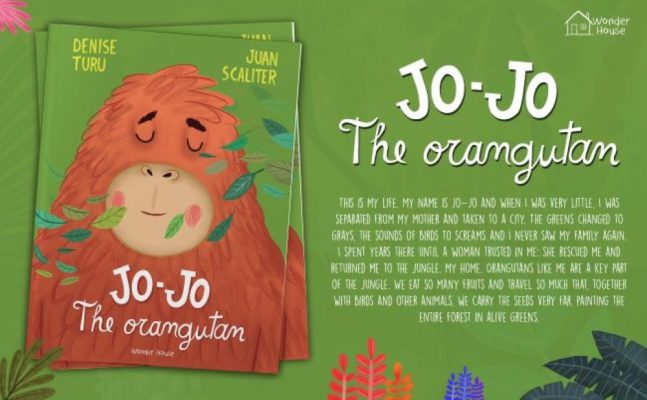 Jo-Jo The Orangutan – Illustrated Picture Book For Children by Denise Turu and Juan Scaliter for 3-6 years (32 pages)
World Book Capital – An Illustrated Picture Book For Children – Introducing Kids To The World Of Books and Different Cultures by Bodour Al Qasimi, illustrated by Denise Damanti for 4 years+ (48 pages). In Amardeep's words:
"Imagine a city where instead of asking "How are you?", people ask "what are you reading?". How beautiful is this?"
Royal Secrets by Ishan Trivedi for 4-6 years (36 pages)
It's Okay Not to be Okay by Sarah Allen for 3-5 years (26 pages)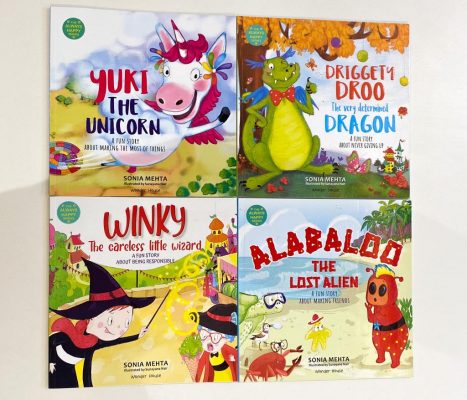 The Always Happy Series: Driggety Droo The very Determined Dragon – A fun Story About Never Giving Up. Achira has this one. In her words:
Meet Driggety Droo-A petrifying dragon who looked very fearsome with razor-sharp teeth, dagger like toes and knife-like scales. Sounds super scary right? But wait a minute – do you think everyone feared him a lot? The answer to this question is no, because he was surely a dreadful looking beast but he could not breathe fire like others. Instead, whenever he opened his mouth, out came bubbles and only bubbles. This made him sad because he was like blue rat in the middle of loads of red rats. No matter how hard he tried, he could not breathe out fire. Other dragons made fun of him instead of being scared of him.

Why do you think he could not breathe fire? Was he not a real dragon? Do you think Driggety Droo will get demotivated, give up and throw in the towel? Or will he eventually learn to be a true fire breathing dragon. The breathtaking illustrations and the rhyming text really make it a fun read. And what Driggety learns at the end is something we all should remember for life. We really loved reading this book.
The Always Happy Series: Winky The Careless Little Wizard – A fun Story About Being Responsible. Girija has reviewed this book and her daughter Miss M loves it. Excerpts:
Winky is very very careless and is also the naughtiest wizard in the land of Dumble -dee -dim.
He is the best spell caster around but does not put his gift to any good use. Instead, he uses his magic to pull tricks and make others miserable. No amount of advice helps in stopping Winky's tricks and one day he lands himself and others in a very big trouble. This makes Winky understand how his carelessness is affecting everyone and the importance of being responsible.
The book conveys its message through such a simple yet engaging story. Miss M was hooked to the storyline and the chirpy illustrations. The shoe turning into a pumpkin, honey coming out of witch's nose, ice cream turning into a toad, all had M burst into peels of laughter.
We now have Winky references floating around the house throughout the day. The book has helped us make M understand what being responsible is.
The Always Happy Series: Alabaloo The Lost Alien – A fun Story About Making Friends
Asma has this book and has shared a mini review with inside pages in the kbc fb group. Quoting her:
This is such an apt story when kids have to deal with friends moving away from apartment to friends changing schools where they need to be comfortable in new environments and make new friends. The illustrations of overwhelm that Alabaloo faces and joy he finds in new friends builds and instant connect with little reader. Gently rhyming story subtly encourages little readers to be open to new friends and teaches inclusion to existing group of friends to involve a new kid.

Now with every new place/ activity that Ruhani has to go alone, she is assured that with friends you are never alone.
The Always Happy Series: Yuki the unicorn – A fun Story About Making The Most Of Things
A UNIQUE CHRISTMAS SPECIAL!
Christmas Activity Book For Children – Festive Fun for 4-7 years. Achira has this one and her 5yo Adu loves it. You can read her detailed review on the website here. She has shared inside pictures and videos in the kbc fb group here. Don't miss Adu saying that they have to gift his friends this activity book for Christmas!! Quoting Achira:
The book is full of fun activities, cool stickers and even some amazing face masks. We started doing it and found it immensely engaging. The activities are varied- from spot the difference to mazes to crossword to drawing and colouring, it has all the things to keep the little ones busy.

This is a great gifting option for Christmas and Adu already wants this for his friends!
AWARD WINNING BOOKS!
I SEE THAT by Romana Romanyshyn (Author), Andriy Lesiv (Author), Vitaly Chernetsky (Translator) for 6 years+ (56 pages)
Loudly, Softly, in a Whisper by Romana Romanyshyn (Author), Andriy Lesiv (Author), Vitaly Chernetsky (Translator) for 6 years+ (56 pages)
Shipra has both of these books and highly recommends them. Excerpts from her review shared in the fb group with inside pix here.
These two books cover almost everything about our sense of hearing and sight.
There is minimal text and lots of pictures covering almost everything under the sun.
Loudly, Softly, In a Whisper covers almost all the concepts of 'sound'. Beginning from the creation of the Universe, when there were no sounds, to the point when it's filled with sounds. It has information about how our nature, body, and even houses are filled with all sorts of sound.
I particularly loved how the book talks about the significance of calmness and taking a break from the noises surrounding us.
" in silence, one can hear something really important- for instance, the sound of two hearts beating".
The other book, ' I See That' focuses on the sense of sight. This is also on the same lines. How our sense organs help us to explore the world and sometimes even beyond.
Both of these books are the winner of the " Bologna Ragazzi Award" in the non-fiction category.
Age recommended 6+ years (as it has certain concepts that could be easily understood by a slightly older age group )
Should you wish to explore the other wonderful books published by WONDER HOUSE BOOKS, you can find them all here on Amazon. The novelty and sticker books have SEEK AND FIND Early Learning Board books with tabs as well as the LIFT THE FLAP Early Learning series which are huge bestsellers.
Baby's Foam Books for infants and babies are very affordable.
MY FIRST FLASH CARDS (lots of affordable and frequently ordered boxsets)My First Padded Board Books of Nursery Rhymes : Illustrated Traditional Nursery Rhymes
Pawsome Gift Set of Foam Books For Paw Patrol Fans – set of 4 books – alphabets, colours, numbers, shapes.
My First Touch and Feel books for infants and babies – again very affordable!
Animal ABC Board Book by Wonder House for 0-3 years (26 pages). This gets ordered very often. Vichithra has posted some inside pages of this book in our fb group here. In her words " An excellent chunky board book of alphabets which is appropriate in size for small hands and not heavy too. Each page for every alphabet with an animal what it does is written perfectly and beautifully illustrated. From Alligator learning alphabets to Zebra all zipped up would be new ABC for little ones. Little D's favorite ABC book."
My First Padded Board Books of Nursery Rhymes : Illustrated Traditional Nursery Rhymes
LET'S TALK SERIES (for 1-3 years)
Pinkfong Baby Shark – Shark-tastic : Activity Book For Children (3-5 years) is another activity book that keeps our smallies engaged!!
Alphabet Phonics – Reading Library For Children (Boxset of 26 books)
Dinosaur Box Set: My First Board Books (8 Books Boxed Set) for 2-4 years. THESE CUTE DINO BOOKS CAN BE ORDERED INDIVIDUALLY AS WELL. Kimeera has shared a mini review and inside pages here in the fb group! Quoting her:
They are a perfect introduction for little kids to the world of dinosaurs. Each book has the most prominent facts about a dinosaur and it's lifestyle, with vivid illustrations to go with them. Not too long, not overcrowded with facts, attractive to look at.. well-designed books on the whole. My favourite thing about the books is that each dinosaur has been given a pet name (like BULLET-PROOF DINOSAUR or THUMB-SPIKED DINOSAUR) that describes one of its unique features. It's printed right on the cover page, and makes it all the more easier to remember them.
Why Pursue A Dream? (36 pages)
Did you know that Wonder House has some brilliant HEIGHT CHARTS on different fun themes?
ACTIVITY BOOKS
Pick and Paint Colouring Activity books come in different themes for 3-6 years
Dream Like A Unicorn – Reusable Wipe And Clean Activity Book: With 15 Wipe And Clean Sheets
Relaxing Mandala For Kids: Coloring Book To Improve Concentration And Relaxation
Crossword Puzzles Boxed Set [4 Books] – 680+ Engaging Crossword Puzzles | Page Count: 768 |8000+ Words for Vocabulary Building. Mona recommends these big time, In her words:
"I have always adored activity books by Wonder House. Starting from sticker activity books to these engaging crossword puzzle books.
Spriha's birthday is next month and we are organising a small birthday celebration at home with few kids of her age. I had already ordered story books for return gifts but on birthday girl's demand, we will be readily adding one crossword puzzle book in each return gift bag.
Age appropriate: Not too simple, not too difficult, keeps the excitement of 9 year olds.
All books at same difficulty level: She can pick up the next book without hesitation. There is always something new to learn in each puzzle.
Cost effective: These books with 175 puzzles each are on deal right now with each book costing less than 100/-
Single or multiple players: Solve it yourself at home or solve puzzles outdoors with friends.
Spriha says, "These books are challenging, entertaining and engaging."
INDIA – Fun Activity Book for Children (40 pages) for 7 yrs+ (according to the publisher). Punidha has shared a review and inside pages here on fb. Quoting her:
This is a great book to introduce India's cultural diversity to kids and it is packed with super fun activities starting with National Anthem and its meaning and National symbols. There are so many activities like finding the difference, quiz, riddles, match and finding odd one out, unscramble, fill in the blanks. These are designed based on the states' food, animals, flowers, language, famous places, monuments, dance, freedom fighters, festivals and so on. Also there is an interesting game of traveling from Jammu and Kashmir to Kanyakumari by answering the questions. This book has stickers at the end for doing activities and extra stickers are also given for fun.

Both my kids enjoyed this book so much and they did the sticker activity first. Hari secretly told Sai, "See, there is Jana Gana Mana" and Sai excitedly came to me and told, "Amma, Jana Gana Mana is written here" and started singing .
ACTIVITY BOOKS across all ages!
CURSIVE HANDWRITING PRACTICE WORKBOOKS (different levels)
WORD BUILDER Activity Book For Children – Make Meaningful Words With The Given Letters COMES IN DIFFERENT LEVELS FOR DIFFERENT AGE GROUPS.
BOOKS ON SPACE FROM WONDER HOUSE! (for 8 years+ but since most of our space enthusiast kbc childoos are advanced readers, 6/7 year olds might enjoy these books as well)
Knowledge Encyclopedia Space Hardcover – Import, 20 November 2022 (192 pages)
Space Collection of 6 Books Knowledge Encyclopedia – 1 January 2020 (192 pages)
Space – Constellations: Knowledge Encyclopedia For Children – Paperback -1 January 2020(32 pages)
Space Astronomy Knowledge Encyclopedia For Children Paperback – 1 January 2020 (32 pages)
Space Stars and Galaxies Knowledge Encyclopedia For Children Paperback – 1 January 2020 (32 pages)
Space Our Universe Knowledge Encyclopedia For Children Paperback – 1 January 2020 (32 pages)
Space Mission Exploration Knowledge Encyclopedia For Children Paperback – 1 January 2020 (32 pages)
Space Solar System Knowledge Encyclopedia For Children Paperback – 1 January 2020 (32 pages)
Inventions and Discoveries Space Discoveries Knowledge Encyclopedia For Children Paperback – 1 January 2020
Vikram & Betal – Life Lessons for Our Times by Neelam Kumar for 12 years+
MYTHOLOGY
My First Shaped Board Book Illustrated Lord Ganesha Hindu Mythology Picture Book (Indian Gods and Goddesses) for 0-3 years (cut out board book)
There are other books in this Indian God and Goddesses series

Tales from Ganesha For Children: Indian Mythology Paperback for 3-5 years (16 pages)
There are other books in this series.
Children's First Mythology Stories Pack of 5 books Ram Shiva Hanuman Ganesha Vishnu Paperback
Tales from Indian Mythology Collection of 10 Books
Little Krishna Illustrated Untold Stories from Childhood for 7 years+
Ganesha: The Elephant Headed God- Illustrated Stories From Indian History And Mythology for 6-10 according to publisher (84 pages) – Sowmya has this book and recommends it for 8 years+. She has shared a mini review and inside pages here.
There are many other books in the Illustrated Stories From Indian History And Mythology series, both in English and Hindi!
Shlokas and Mantras Activity Book For Kids Illustrated Book With Engaging Activities and Sticker Sheets Hardcover for 3-9 years (64 pages)
Shlokas and Mantras For Kids – Illustrated Padded Board Book – Learn About India's Rich Culture and Board book for 2 years+ (24 pages)
[Note from Team Kids Book Café: For your convenience, affiliate links (MARKED IN PINK) to some of the book titles & images have been added to enable you to buy the books from AMAZON, should you wish to! A very small amount of money comes to kidsbookcafe.com when you purchase a book via the amazon affiliate link provided (at absolutely no extra cost to you!). Do let us know if you need information about other children's books by writing to asha@kidsbookcafe.com]