Wonder House has always been a household name and a friend to all babies and toddlers thanks to their MY FIRST LEARNING LIBRARY which has been the first book boxset many of our kbc members have introduced to their childoos. In fact, this is one of the most recommended "must have first boxsets" for babies in our community. Quoting Girija:
I bought this set of 20 books when Baby M was of 6.5 months. It was a gamble that paid off quite well. We read these a lot of times throughout the day with M choosing which book she wanted us to read next. Absolutely recommend!

This was the set that made M fall in love with her books. At 10 months she could sit with these for an hour at a time!
We have an exciting announcement!
Drumroll….. We at Kids Book Café are community partners of Wonder House Books and hope to bring you their new releases as well as some interesting campaigns in the near future!!
Presenting the latest releases from Wonder House!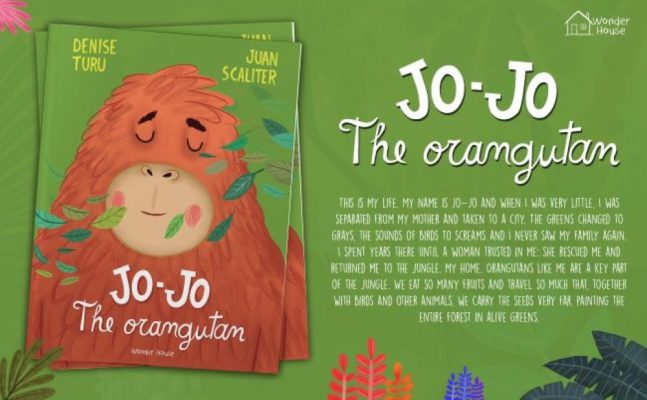 Jo-Jo The Orangutan – Illustrated Picture Book For Children by Denise Turu and Juan Scaliter for 3-6 years (32 pages)
World Book Capital – An Illustrated Picture Book For Children – Introducing Kids To The World Of Books and Different Cultures by Bodour Al Qasimi, illustrated by Denise Damanti for 4 years+ (48 pages). In Amardeep's words:
"Imagine a city where instead of asking "How are you?", people ask "what are you reading?". How beautiful is this?"
Royal Secrets by Ishan Trivedi for 4-6 years (36 pages)
It's Okay Not to be Okay by Sarah Allen for 3-5 years (26 pages)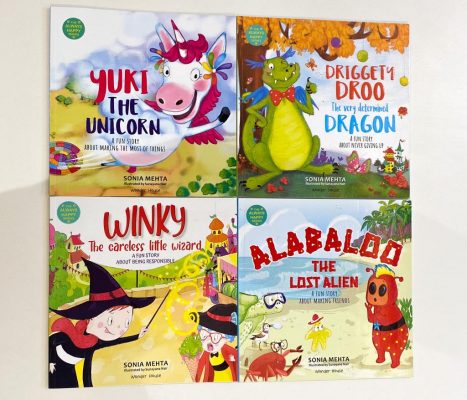 The Always Happy Series: Driggety Droo The very Determined Dragon – A fun Story About Never Giving Up. Achira has this one. In her words:
Meet Driggety Droo-A petrifying dragon who looked very fearsome with razor-sharp teeth, dagger like toes and knife-like scales. Sounds super scary right? But wait a minute – do you think everyone feared him a lot? The answer to this question is no, because he was surely a dreadful looking beast but he could not breathe fire like others. Instead, whenever he opened his mouth, out came bubbles and only bubbles. This made him sad because he was like blue rat in the middle of loads of red rats. No matter how hard he tried, he could not breathe out fire. Other dragons made fun of him instead of being scared of him.

Why do you think he could not breathe fire? Was he not a real dragon? Do you think Driggety Droo will get demotivated, give up and throw in the towel? Or will he eventually learn to be a true fire breathing dragon. The breathtaking illustrations and the rhyming text really make it a fun read. And what Driggety learns at the end is something we all should remember for life. We really loved reading this book.
The Always Happy Series: Winky The Careless Little Wizard – A fun Story About Being Responsible. Girija has reviewed this book and her daughter Miss M loves it. Excerpts:
Winky is very very careless and is also the naughtiest wizard in the land of Dumble -dee -dim.
He is the best spell caster around but does not put his gift to any good use. Instead, he uses his magic to pull tricks and make others miserable. No amount of advice helps in stopping Winky's tricks and one day he lands himself and others in a very big trouble. This makes Winky understand how his carelessness is affecting everyone and the importance of being responsible.
The book conveys its message through such a simple yet engaging story. Miss M was hooked to the storyline and the chirpy illustrations. The shoe turning into a pumpkin, honey coming out of witch's nose, ice cream turning into a toad, all had M burst into peels of laughter.
We now have Winky references floating around the house throughout the day. The book has helped us make M understand what being responsible is.
The Always Happy Series: Alabaloo The Lost Alien – A fun Story About Making Friends
Asma has this book and has shared a mini review with inside pages in the kbc fb group. Quoting her:
This is such an apt story when kids have to deal with friends moving away from apartment to friends changing schools where they need to be comfortable in new environments and make new friends. The illustrations of overwhelm that Alabaloo faces and joy he finds in new friends builds and instant connect with little reader. Gently rhyming story subtly encourages little readers to be open to new friends and teaches inclusion to existing group of friends to involve a new kid.

Now with every new place/ activity that Ruhani has to go alone, she is assured that with friends you are never alone.
The Always Happy Series: Yuki the unicorn – A fun Story About Making The Most Of Things
A UNIQUE CHRISTMAS SPECIAL!
Christmas Activity Book For Children – Festive Fun for 4-7 years. Achira has this one and her 5yo Adu loves it. You can read her detailed review on the website here. She has shared inside pictures and videos in the kbc fb group here. Don't miss Adu saying that they have to gift his friends this activity book for Christmas!! Quoting Achira:
The book is full of fun activities, cool stickers and even some amazing face masks. We started doing it and found it immensely engaging. The activities are varied- from spot the difference to mazes to crossword to drawing and colouring, it has all the things to keep the little ones busy.

This is a great gifting option for Christmas and Adu already wants this for his friends!
Should you wish to explore the other wonderful books published by WONDER HOUSE BOOKS, you can find them all here on Amazon. The novelty and sticker books have SEEK AND FIND Early Learning Board books with tabs as well as the LIFT THE FLAP Early Leaning series which are huge bestsellers.
Baby's Foam Books for infants and babies are very affordable.
My First Touch and Feel books for infants and babies – again very affordable!
Space – Constellations: Knowledge Encyclopedia For Children comes recommended for space fans.
Pinkfong Baby Shark – Shark-tastic : Activity Book For Children (3-5 years) is another activity book that keeps our smallies engaged!!
Alphabet Phonics – Reading Library For Children (Boxset of 26 books)
INDIA – Fun Activity Book for Children (40 pages) for 7 yrs+ (as mentioned on amazon)
[Note from Team Kids Book Café: For your convenience, affiliate links (MARKED IN PINK) to some of the book titles & images have been added to enable you to buy the books from AMAZON, should you wish to! A very small amount of money comes to kidsbookcafe.com when you purchase a book via the amazon affiliate link provided (at absolutely no extra cost to you!). Do let us know if you need information about other children's books by writing to asha@kidsbookcafe.com]