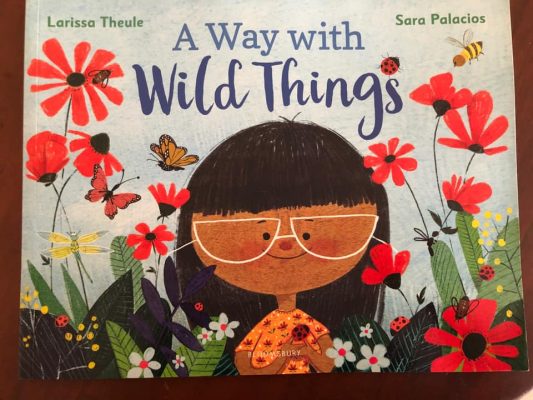 A way with wild things by Larissa Theule for 3-6 years (32 pages). Prachi has this one and highly highly recommends it. Quoting her:
I know how difficult it is to see our kids not being able to do what they do because of the feelings that they are not able to express. Some lovely books have already been suggested here. I would like to suggest one more- A way with wild things. The story is about a girl who is absolutely comfortable in the wild (in your case you) but is very shy in front of people and how when faced with a situation where she has to talk about the wild, she is able to forget her shyness. A concept similar to Meesha makes friends.
Press – Out and Play: Construction
Animal Pants (3-6 years)
Miss Brick the Builders' Baby (Happy Families) (24 pages)
The Who's Whonicorn of Unicorns by Kes Grey for 3-6 years (32 pages)
Jonathan the Magic Pony for 3-6 years (32 pages)
If the World Were 100 People: A thought-provoking introduction for children to the people who live on our planet. (32 pages) for 5 years+ . Excerpts from Amardeep's review in the fb group:
We have read many non-fiction books, but this one is like no other. It introduces facts in a very different way. For kids like mine who keep visualizing numbers all the time in their head, and make lego fractions, it's perfect. It assumes there are 100 people in the world, and explains important issues like – population, access to food and clean water, literacy, and much more, based on that.

You'll learn some very important facts like:

– 60% of the people live in Asia

– 11% of the people do not have enough food to eat. This is despite the fact that 33% of the food produced is wasted every year. If we ensure zero wastage, that 11% will have enough to eat!

– The most common hair colour is black (84%) but the most common eye colour is brown (76%). In fact, there is no such thing as a black eye colour!

This book is perfect for kids above 5, and even older children will have a lot to learn from it.
A Child of Books by Olivier Jefferson and Sam Winston as shared by Sharadhi
It's about a young girl sailing across the sea of words, going on an imaginative adventure. She calls a little boy along through this fantastic journey of the forests of fairy tales and mountains of make-believe.

This book is about power of imagination where with only a little imagination anything can happen..

Now what was very interesting to me was, the book floats the girl through pictures and words from children's classics , probably indicating, how all these books have carried their readers through an adventure. I had fun going through these classics having my own nostalgic experience through it and relishing the many adventures those books have given me 🙂 .

Though it's a picture book , I would suggest it for ages 6 and above as they find it more relatable.
Jake's Cave (Walker Stories) for 5-8 years (64 pages)
In My Heart by Nandana Dev Sen for 5-7 years (40 pages) comes highly recommended by Asma
Whose Lovely Child Can You Be? (Karadi Tales) – A book on adoption. It has 96 pages so should be apt for 6/7 years+
Tell Me About Your Day Today by Mem Fox (the bestselling author of Ten Little Fingers, Ten Little Toes) for 3.5/4-6 years (40 pages)
Whoever You Are (Reading Rainbow Books) by Mem Fox – for 4-7 years (32 pages) is a lovely book on inclusion!
Yoo-Hoo, Ladybug! by Mem Fox for 3/4-7 years (32 pages)
I Have to Start at School Today for 3-6 years. Excerpt from Amardeep's review in the kbc fb group:
When I read the synopsis of this book, "I have to start at school today", I knew instantly that it was perfect for him. The story is about a little girl about to start school, but she is extremely worried – what if she can't find the entrance? What if there's a rhino at the entrance who demands a password to enter? What if there are no chairs left to sit? Her brother doesn't make it any easier for her, by telling her that these are all very possible scenarios, as they have happened to him before. Her grandmother then steps up and shows her the brighter side of all these scenarios – what if all these things go right? What if your perspective of looking at it just needs to be tweaked a little to enjoy it? What if school is full of fun and frolic?

If you have a child who has ever expressed anxiety or worry over small or big things, please get this funny book to help them see things differently. What I love about this book is that it is non-serious and it deals with anxiety and worries through storytelling. Often, the best way to deal with kids' problems is not logic – the rain water is never going to come into the classroom anyway, but helping them imagine a way out of that situation.
NO HELP WANTED by Ruth Ori
Magnificent Milly (Picture Flats) Amardeep has this for her passionate 5yo builder! She has shared the inside pages in our fb group here. Excerpts of her review:
Milly loves helping her friends by coming up with new inventions but they do not always work. She keeps coming up with new (and hilarious) inventions, with even more disastrous results. When she and her friends are faced with a problem during a picnic, she gets her most brilliant idea ever but realises she cant complete it without help from her friends.

There is soooo much I love about this very simple book (perfect for ages 3 and above):

– it breaks gender stereotypes and depicts a girl interested in handling tools and building things

– it conveys the fact that sometimes we don't achieve exactly what we set out to, but that does not mean you give up on your passion

– it promotes creativity and teamwork
The Great Realisation "A post pandemic bedtime story" by Tomos Roberts. Punidha ordered this book and has shared the inside pix in the kbc fb group here. Snippets from her review: "The famous poem is written based on author's younger brother who asks his brother to share about the virus again during their bedtime. The story explains about the pre-pandemic and post pandemic, how the virus made everyone of us realise the cause for what and how we are all doing today, because of polluting the mother Earth and affecting the environment and the living creatures so badly. It's the story of hope, being kind, love, resilience and dream big. The illustrations are so beautiful which makes the story quite interesting so Hari and Sai could sit throughout and we had great time reading this book."
By the same author: The World Awaits: The second inspiring children's picture book from the bestselling creators of The Great Realisation
AMAR CHITRA KATHA – BOOKS ON FREEDOM FIGHTERS
LITTLE PONY BOOKS, ACTIVITY BOOKS, SETS Maithili's child is a huge pony fan and has some from this series.
HEIDI HECKELBACK BOOKS by Wanda Coven for 5-9 years
TINKLE COMICS for 6 years+
SMARTYPANTS by Anushka Ravishankar – a non fiction series for 4-8 years.
EVOLUTION: #4 THE RISE OF MAMMALS
Shiny Pippin and the Broken Forest for 7-9 years
I Stole My Genius Sister's Brain: I Swapped My Brother On The Internet (256 pages)
Fluffy and Me: True Story of True Friends (296 pages)
Tooth and Nail, Fur and Scale: Fantastic Creatures from the Myths and Legends of India (192 pages)
The Boy Who Failed Show and Tell for 8-12 years (224 pages)
The Raven's Children (256 pages)
Unfair by Rasil Ahuja for 9 years+ (192 pages)
Stories for Boys Who Dare to be Different for 9 years+
Stories for Boys Who Dare to be Different 2
New Kid by Jerry Craft (award winning)
Rory Branagan (Detective) series (350+ pages)
The Bridge Home for 10-12 years
The Night Diary by Veera Hiranandani
Illustrated History of India by Wilco Books Achira has shared the inside pages in our fb group here.
Beautiful big book with text in bigger font and colourful illustrations. Divit has not been interested in history so I was looking for something catchy with simple text to create that initial interest in him. And this just did that. Also another very important thing is the amazing content. Starting from early days of harappa to the different reigns of Mauryas, Guptas, Mughals this book has wonderfully captured all the important events and is divided into different eras. Divit is enjoying reading history thanks to this book. In fact it is so addictive that in the name of studying with D I found Mr. Daddy reading this himself.

If you are looking for a book to introduce history that covers it all, this could be a great book.
The Lifters by Dave Eggers (Pulitzer nominated author) for 10 years+) Asha ordered this.
ACTIVITY BOOKS
Word Search – Knowledge Power: Word Puzzles For Everyone Wonder House
The Wondrous Workings of Planet Earth: Understanding Our World and Its Ecosystems by Rachel Ignotofsky
How to Make a Better World: For Every Kid Who Wants to Make a Difference . Achira has shared some inside pages here on the kbc fb group. Quoting her:
How to make a better world by Kelly Swift is a book you can keep revisiting all you life.

This touches upon small things that we as individuals can do to bring a positive change in the world. Divided into 4 sections, this covers many aspects beautifully. We have started reading the first section- You! And it's absolutely amazing how this touches upon very important issues. I will probably hold onto some sections for later and selectively read this book. But I loved the concept a lot.
Adventures of Bella and Sara: Exploring our Non-renewable Natural Resources for 4th graders
An Introduction to Renewable Energy Sources: Environment Books for Kids – Children's Environment Books
[Note from Team Kids Book Café: For your convenience, affiliate links (MARKED IN PINK) to some of the book titles & images have been added to enable you to buy the books from AMAZON, should you wish to! A very small amount of money comes to kidsbookcafe.com when you purchase a book via the amazon affiliate link provided (at absolutely no extra cost to you!). Do let us know if you need information about other children's books by writing to asha@kidsbookcafe.com.]