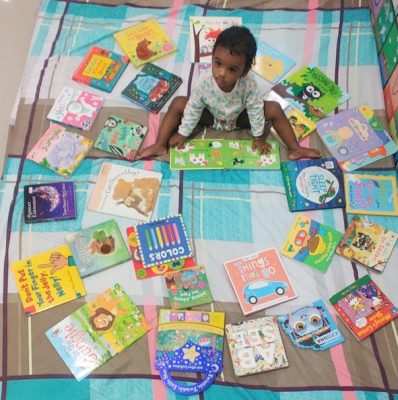 We started our reading journey when she was 3 months young with a tummy time book. Initially she didn't show much interest but from 5 months of age she started to show interest in books and from there the interest has multiplied exponentially till now. We joined KBC when she was 8 months old and from then our reading journey became more merrier with age appropriate books from KBC recommendations.
We couldn't participate last year as I joined the group just after it ended and was eagerly waiting this year. This list is after lot of permutations and combinations and carefully curated to share a list of good, different and new books. Hope you will like them.
1. A yellow coloured book – Don't tickle the bear!
It's a touch and feel sound book from Usborne publishers. It's about tickling the animals in the touch and feel area and while touching animal sounds are heard. Diya enjoys playing with this book and hearing animal sounds like bear growls, fox howls, eagle screeches and tries to make those sounds.
2. Leaf or flower on the cover – Peely Wally by Kali Stileman
A mama bird (Peely Wally) lays a spotty egg and loses it. The egg is saved by other animals and we can trace the egg's adventure. Brief text and beautiful illustrations makes it a good book for bird lovers like little Diya.
3. A book with siblings – Peppa to the Rescue
This is an interactive book with push, pull, slide of the famous Peppa Pig series where Peppa and George visit a fire station along with Mummy Pig. Diya likes the fire engine and loves to make its sound as Nee-naw. There are interactivities like pulling the ladder, sliding Peppa and George to fire engine to rescue Grandpa Pig's aeroplane.
4. A book that features mom – Mummy and Baby Jungle by Melanie Mitchell
A soft to touch Jigsaw book. This is Diya's first jigsaw book. There are 4 large two- piece jigsaws of mommy and baby animals and their characters described on other side. This velvety soft animals press out and play is a good puzzle book for young tots.
5. A book that features dad – Spot loves his dad
We love Spot books. This book is about how Spot and his dad spend the whole day together playing football, flying a kite, getting ice cream on the beach and to end, dad reading bedtime story for Spot and saying goodnight. I like Diya and her dad reading this book for bedtime.
6. A bedtime book – Sleep tight with the very hungry caterpillar
This is our recent addition from the world of Eric Carle books. It's a lift the flap book of saying good night to animals. On the last page, the caterpillar is snuggled up in a leaf for a good night sleep in the starry sky with a bright moon. It has beautiful illustrations like any other Eric Carle book.
7. Lift the flap book – Wild week by Teresa Porcella
A single book to learn days of the week, animals and rooms in the house. Each page has a lift the flap to find the rooms. On each day of week, what an animal does in each room. A first book for Diya on days of week and to teach various rooms in the house. This is one of the Barefoot Books we love.
8. A cat book – Missing Milo lift-the-flap book by Faye Williamson
Milo the cat has gone missing. It's an interactive book of searching Milo by lifting the flap on each page. Finally it's bedtime and when we decide that we can search tomorrow. Where do you think Milo is found finally? You need to read the book to find out! This book is memorable as Diya always prefers to read this one with her dad as he picked it at a bookfair.
9. A book by Debi Gliori – Mr. Bear Says Can I have a hug?
We have other Debi Gliori books at Diya grandma's place. So we have this one here. Mr Bear series are large picture board books with few words makes it a good one for tiny tots. Bear wants to hug other animals but finds the best hug is with…. guess who?
10. A book on first experiences – Little World On Safari
We have been to a safari and seen animals but little Diya was too small to understand that. This interactive push and pull book explains how one would enjoy on safari and see animals. Early morning they start for safari in a jeep and see lions still asleep. How they find other animals and what they do is given in an interactive way. Then having lunch and returning back home completes the first experience of Safari.
11. A book that makes you giggle – Hop on Pop by Dr Seuss
We like all Dr Seuss board books. This book is full CVC words with beautiful rhyming words easy to read. Illustrations and funny rhyming texts make us giggle while reading this one. Up, cup, pup….Red, ed, ned, ted, bed…. Pat, cat, bat…. Hop, pop, top, Stop…. These are really simple and silly books.
12. A book on big emotions – How do you feel ? by Mandy Stanley
This book is about asking animals how they feel. Each page has a large animal picture and one emotion is shown on each page. Feelings are explained in short and brief rhyming text. This is an early book to introduce emotions for little ones. It ends with feeling loved is so good and completes the book.
13. A book that was helpful in addressing an issue – Baby Touch Get Dressed
It's too difficult to dress up Diya. Like many toddlers we had to run behind her to dress her up. This large touch and feel book beautifully illustrates various dresses for children and different colours too. We started showing this to Diya while dressing her up and this gives some time to dress her up. Various textures of touch and feel makes it a good book for 8 months+.
14. A book you love for the illustrations – Shhh… good night by Nicky Benson and Thomas Elliot
This is a beautiful bedtime book with vibrant illustrations. It has rhyming text and cut outs and peep throughs. How mommy and baby animals settle down and cuddle up in bedtime is beautifully illustrated and we love reading it for bedtime.
15. A book by an Indian author – Johnny Johnny Yes Papa by Kavita Aravind
This small board book is one which helped Diya learn the rhyme Johnny Johnny Yes Papa. This book has been designed as an Indian version with cute and funny illustrations. You can see the pictures illustrated are of a typical Indian family and Indian home. There are many other titles of nursery rhymes in this series but this one is our favourite.
16. A book that has food in the title – Don't put your finger in the Jelly, Nelly!
A book for picky eaters by Nick Sharratt. There is lots of junk food in this book with holes. Diya likes to insert her finger and turn the page to find which animal has caught her. If you put your finger in the jelly, you might upset a jellyphant. This is also good for kids who dip their fingers in food.
17. A book with a stuffed animal – There's a squishy yeti in my book
We got this book in last year from the Scholastic year end sale. This is her first stuffed toy book. There is a squishy yeti face in this book which is key attraction and Diya loves to squish and squeeze the yeti face. The short text describes the characters of yeti.
This book can be ordered from Scholastic India via our kbc storefront as well. Scholastic India always has special offers on.
18. A book about a day out with family – Maisy's Circus Show – A push and pull book
Diya has started showing interest in Maisy books and we have recently been to a circus too. This Maisy book is an interactive book that describes the shows in the circus with push and pull activity. Flying trapeze, juggling and trampoline are highlights in this book.
19. A book that teaches an important lesson – Feeling Hungry by Fine Feather Press
Though I have come across some books on mealtime for kids, this one has my heart for its strategies and wholesomeness. This book is written by an early year's consultant Dr Sue Robson. It has touch and feel animals. The book starts with how one feels hunger by tummy rumbling and tells the reader to wash hands before every mealtime. Then one has to gather stuff for eating like plate and spoon and eat without stuffing or guzzling. Then comes trying new foods and eating with the family. It ends with thanking the persons who have looked after you!
20. Grown up's favourite book in the house – Take heart, my child by Ainsley Earhardt
A lyrically written heart-warming book for parents. This book is about a mother's dream even before the baby is born. It is rhymingly written on how kids of this era should aspire and follow their hopes to reach their goals so that they will become what they have dreamt; and how parents will be supportive. It has beautiful illustrations too.
21. A hand-me down book you are attached to – Who's Fallen Asleep? (Usborne Baby Books)
This is an Usborne book. A bedtime spy and find book with many cute pictures of animals and minimal text. Diya has even read this book 5 times, back-to-back! Sometimes I get bored of this book and hide it :).
22. A book you tore – Pops for tots things that go
This is a pop-up book of vehicles. Diya is always curious to touch and move the pop-up things in books. This book has pop-up of vehicles and in the first read itself Diya had pulled the pop-up of Digger and it's torn. It has pop-up of car, tractor, bike, digger and boat and their sounds.
23. A book you have carried to bed and slept with – Twinkle twinkle little star and other lullabies
This a multiple sing along bedtime rhymes from igloo books. It has Twinkle twinkle little star, Rock-a-bye baby, Hush little baby, Lullaby and good night, Hush-a-bye and Are you sleeping rhymes. Rock-a-bye is already Diya's favourite and this book just added another rhymes to her playlist. She first heard the 'Hush little baby mocking bird song' from this one and it's her go to rhymes in lullabies. Though Diya has still not started to sleep on her own, she takes this book to her bed and lies down and plays the rhymes at bedtime.
24. A book written in rhyme (not nursery rhymes)- Go, Go Pirate Boat by Katrina Charman and Nick Sharratt
This is our third book in this series. This book is to the tune of row, row, row your boat rhymes. It's cute when Diya says Go, go pirate boat after reading this book. This book is about a pirate's life how he goes to sea to find the treasure and comes back home.
25. A book your grandparent read to you – On the farm – Priddy baby
It's our first touch and feel book. Diya's grandpa used to read this book about farm animals and she enjoyed the various textures from 8 months of age. It's one of the priddy books which we love to read at any time with the rhyming text and feeling the textures of the animals.
26. A book that has food stains on it – Little Baby's Playtime: A finger wiggle book
We try to avoid distraction feeding but with books we pass our meal times smoothly. Diya is a picky eater and this finger wiggle book keeps her engaged especially while having lunch. We can pop two fingers in the holes as baby legs in each page and share fun how baby plays in swing, beach and in slide. This book is from our favourite illustrator Nick Sharratt.
There are many such FINGER WIGGLE BOOKS!
27. A book given to you so mom/dad could have tea in peace! – Colors – Priddy Baby
This is a pull the tab book to learn colours in animals, toys, clothes and things we see while going out. Bright pictures and pulling the tab to find out things keeps Diya engaged for some time.
28. A book by Wonder House – Krishna
Our first Wonder House book and also first shaped book. Diya loves little Krishna in this book. We first started reading this one when she was 8 months old. She would smile for every page when we read together. Bright illustrations and short text are highlights in this book.
29. A book you gift often – Dreamland In the Jungle flap book
It is a large thick paperback flap book with bright pictures of animals and bold rhyming text. This is the first flap book for Diya. I have gifted this book twice as it is a large book with animals and flaps too and it was loved by them. This one is good for exploring toddlers.
30. A book you got from kbc recommendations – AB See by Elizabeth Doyle
Can't thank enough Punidha Sivakumar and Amardeep Sodhi for this wonderful book suggestion and deal alert. It's a chunky board book with each page for each letter. And it's more thought provoking and attractive. In the end, they have given a list of things that can be found in each letter. I really wish I had access to these books when I was a kid.
ADDED BY ASHA: Vichithra has regularly been sharing Diya's current reads in the fb group. We'll be adding them here:
Two Little Dickie Birds Sitting On A Wall – the review and inside pages have been shared here.
Busy Day: Train Driver (12 pages) – this is a lift the flap super interactive fun book shared by Vichithra here. She has posted a video of the inside pages. There are many other action flap books in this series that highlights different professions.
[Note from Team Kids Book Café: For your convenience, affiliate links (MARKED IN PINK) to some of the book titles & images have been added to enable you to buy the books from AMAZON, should you wish to! A very small amount of money comes to kidsbookcafe.com when you purchase a book via the amazon affiliate link provided (at absolutely no extra cost to you!). Do let us know if you need information about other children's books by writing to asha@kidsbookcafe.com.]