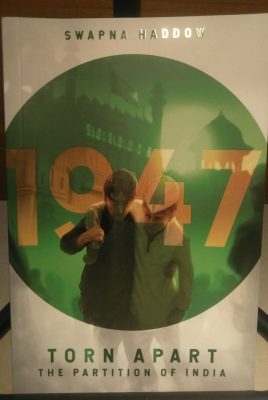 Title: Torn Apart – The Partition of India, 1947
Author: Swapna Haddow
Publisher: Scholastic
Type: Paperback
Age group: 10+ years
Torn Apart by UK based Swapna Haddow is a simple, heart-rending story of what happened in 1947. Experiencing the fresh scars of partition, our protagonists, a rich Muslim boy Ibrahim and Amar, a poor Hindu street kid, are united by fate and circumstances.
The story construction and recounting is rendered in a simple style, to make it palatable for young readers. Each chapter carries the story forward as seen through the eyes of Ibrahim, followed by Amar.
Too small to fathom the aftermath, and yet smart enough to figure out how to stay alive, Ibrahim & Amar put aside their differences and become allies, with one clear plan: watching each other's back.
As the worst of human crimes unfold in Delhi, amidst the familiar political intonations of Pandit Nehru and Mahatma Gandhi, nothing is sacred anymore. Except survival. From Old Delhi Railway Station to Chandni Chowk to temples at night, our protagonists are pursued by those whose intent is to kill.
In between lighter moments of stealing, and tasting delicious mangoes, or spending their riches (or what's left of it) on hearty breakfasts, the deathly atmosphere is all prevalent.
All the while, Ibrahim's soul searching goes on, even while reaching his twelfth birthday. He keeps reminiscing of his family, his sister, and whether they are safe. But rude, violent jolts awaken him to the reality and his gratitude grows for his rescuer and saviour, Amar.
An eye opener for today's young generation, it's a poignant reminder of what happened 74 years ago. And why with the passing of time, these wounds refuse to heal completely. That part is left open to interpretation, and the author has a beautiful inspiration on how the future can be different from the past. According to her…
"We can look beyond what divides us and see that we have more in common than differences, just like Ibrahim and Amar."

Or as the story blurb sums it up…
We could've easily been mistaken for brothers.
If you enjoyed this review and wish to buy the book or any book in this series from Scholastic India (kbc affiliate link), type TORN APART in search after clicking this red button.
CLICK & BUY NOW!
Should you wish to buy this book from Amazon (kbc affiliate link), click here.