Title: Let's Bee Thankful (Bumble and Bee) – An Acorn Book
Series: Acorn Bumble and Bee
Author & Illustrator: Ross Burach
Publisher: Scholastic Inc.
Recommended age: 3-6 years (4-6 yrs for self-reading)
When the book arrived, my 4 years old son, Aayansh, was so attracted to the illustrations of the book that he grabbed it and started to read on his own. On the first go, he simply read through it. But then, he re-read it after sometime and was laughing throughout!
So, you all must have guessed this is a hilarious book.
It is a perfect book for early, independent readers and its comic strip style panel made it more interesting for Aayansh.
As the title of the book suggests, Bumble and Bee are two friends who are thankful to their third friend Froggy for many reasons!
Some things we really enjoyed:
The fact that Froggy helped them in completing their to-do list ie paint a pumpkin. The confusion before this is super humorous.
The part where they volunteer to get butter for "Froggy's famous apple pie" and the mess they create is fun to read.
And not to forget the part where they accompany Froggy in his winter hibernation with their drool-worthy plan which even Aayansh wanted to join in with his favourite hot cocoa and marshmallows.
Aayansh's Learning: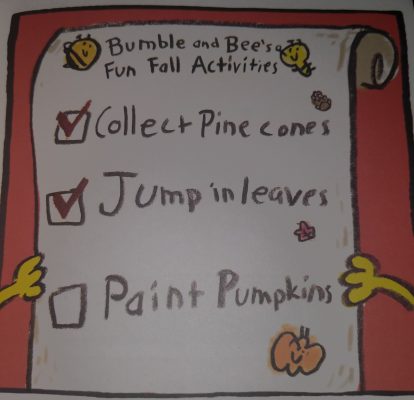 Mumma, I will also make a to-do list every morning for my daily activities like Bumble and Bee!
This is the second Acorn book we own and the other one (Dragon series) is also based on the theme of friendship. The first one was about the emotional bond of this beautiful relationship but this shows the amusement one can have with friends.
Not only this, what I adore about Acorn books is they boost the creative side of the reader by helping them learn to draw the characters of the story.
If you want to enjoy the fun of these three friends with your little one, do get this book ❤️❤️.
Apart from BUMBLE AND BEE, Acorn books include series called HELLO HEDGEHOG, A CRABBY BOOK, UNICORN AND YETI, Dav Pilkey's DRAGON BOOKS.
If you enjoyed this review and wish to buy the book from Scholastic India (kbc affiliate link), type ACORN BOOKS or BUMBLE and BEE in search after clicking this red button. Scholastic India usually has incredible offers!
CLICK & BUY NOW!
Should you wish to buy this book from Amazon (kbc affiliate link), click here!